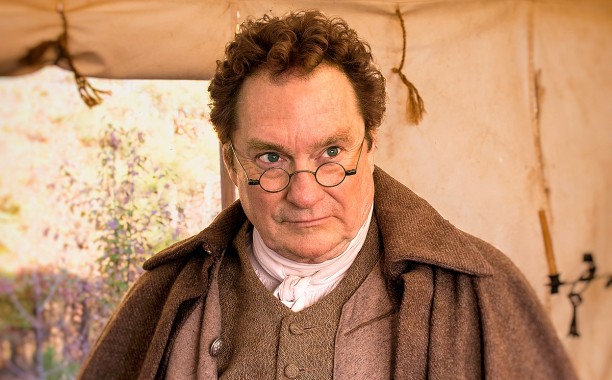 Boy, things did NOT go well for the rebels this week on Turn. It's really kind of a fun perspective to have. On the one hand (spoiler alert, for those of you who didn't pass 8th grade history), you know that Washington will win the war. On the other hand, wars last for a long time and come with many setbacks, and tonight's episode proves just how brutal and scary the war time could be, even for our future American heroes.
This week on Turn: Washington's Spies: Abraham teams with Robert Townsend's father in what appears to be one last attempt to sway Robert into becoming a patriot. Since his father is on to him, Abraham plants evidence and is caught by the British army. Ben Tallmadge has to make a judgement call, but Washington doesn't trust it at great cost to the Continental Army. Robert Rogers recovers the letter from France. Simcoe and the Queens Rangers return to Setauket.
Turn has always been good. It's a good show. The acting is fantastic; the dramatic scenes just ooze with talent. The story, though it can be convoluted, is always fascinating. This episode, however, was a cut above the rest. It seems as though both of Turn's first two season have suffered through some initial sluggishness, only to start to really push things and create excitement in the second half. Though it has never been boring, the excitement really ramped up in this week's episode!
You can tell when this show really buckles down on its storytelling, because it leaves out characters. This week, sans John Andre and Benedict Arnold, the series was able to focus onsome of the other characters' stories and tell them well. Abraham's story was good, and at the end got VERY exciting. I think Jamie Bell is a fantastic lead. Hopefully, should the show continue, they can keep him after he gets Fantastic Four famous. Kevin McNally adds a lot to Abraham, and has some great material of his own.
Perhaps my favorite of the stories (albeit, frustrating) was the one involving Tallmadge and Washington. I could see right away that Tallmadge would be correct, but when Washington didn't trust him, I screamed and threw things. I can almost understand Washington's reluctance to trust Ben, but how could he ignore the obvious? I mean, as Washington's head of intelligence, I could've figured that out. I wasn't mad, though, because it was true to both Washington and Tallmadge as characters. Seth Numrich and Ian Kahn are both doing some excellent work on this show. They might be the two best characters….maybe. Also, we lost poor Mr. Sackett. At least, I'm assuming we lost him. RIP Nathaniel. We hardly knew ye.
I did not see Major Hewlett getting hauled away coming at all. At. All. But then, it struck me that Simcoe must've orchestrated the whole thing to get some power back when he returned to Setauket. The previous interaction with Simcoe had been so minute that I had totally written it off. But then, when I realized that Hewlett was probably being set up by Simcoe, I got very invested. Wow. Great work.
I am very invested in the three storylines presented in this episode. I absolutely cannot wait to see where the show takes them next. I was not only impressed with the improved structure of the episode, but the acting and tense dramatic elements really keep me hooked on this show. Turn is probably one of the best shows that nobody is talking about, so I best make my voice heard. Great acting, great pacing, great story, and I'm really excited for the next episode.
What did you guys think? Did you enjoy this episode as much as I did? Let us know!!
TURN: Washington's Spies airs Mondays at 10/9c on AMC.
[Photo via AMC]