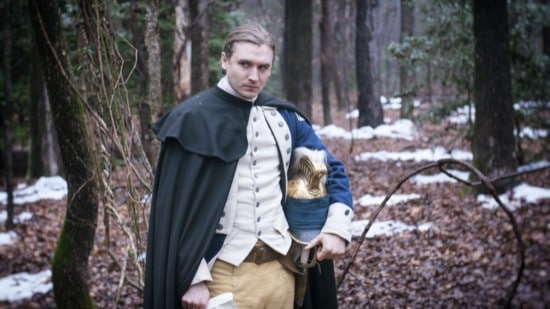 As most of you will recall, I was extremely happy with last week's installment of Turn. Stories of moral conflict and humanity, especially of those that history has romanticized, are very important and must be told. While not all readers agreed with me (I'm used to this by now), last week's episode (love it or hate it) set the stage for what promises to be a roller coaster of a final few episodes. Last week got me energized and excited for the show, and this week certainly didn't let me down.
This week on Turn: Washington's Spies:  Caleb and Ben are too late to save Hewlett, so they hatch their own plan to save Abraham. Washington gives Benedict Arnold a new assignment. John Andre and Peggy Shippen become victims of France's alliance with the Continental Army. Hewlett and Simcoe both return to Setauket, and to Anna. Robert Rogers is betrayed.
I know. I KNOW. I will be the first to admit that I complained about the slow start to the season. I complained about it last season, too. However, if the slow start is a must for the show to build the way it has (I doubt it is, but hey, what do I know?), I will not only appreciate it but advocate it. Things are firing on all cylinders now for this Revolutionary War drama, and I couldn't be more excited about what's coming next.
Anyone who knows me knows that I'm naturally interested in history and war adaptations for screen. If there's a new war movie coming out that has even a little historical basis? I'm there. So of course, when AMC announced Turn, I was beside myself. I loved the idea. I've not always been a fan of the way that the story has been told, but that is due in large part to the large quantities of characters I was expected to follow. With a large cast like that, one tends to forget names, and carry torches for their favorite characters less passionately. But, as previously stated, Turn's slow burn technique is working. I noticed this evening how happy I was to see Abraham and Caleb reunited, albeit briefly. I was ecstatic to see Hewlett return to Setauket, and I even felt disappointment for Benedict Arnold. What I love about this show is that it can take your interest in something historical and make it come to life, and add layers to something already interesting. While a lot moved forward in this episode, and the dramatic stakes were raised, I'm most impressed with the way the show has built up these layered characters.
I have to shout out Daniel Henshall's Caleb Brewster. Speaking as an American who is VERY competitive, I tend to side with the Continental Army. My admission of bias notwithstanding, I think that Caleb is one of the most interesting characters on the show. Henshall's performance has layers to it. Caleb's motivations are clear, and that makes him fun to watch, but you can tell there's always something a little extra on it. I LOVED the scene in the Ben Franklin-esque submarine barrel that he used to infiltrate NYC. I always get disappointed when we don't see a lot of Caleb, so I guess you know why I liked this episode! I would watch a show entirely about Caleb (but I wouldn't be mad if there was some Tallmadge and Washington).
There was so much good stuff in the episode I'd hate to leave things out. The reunion between Simcoe and Hewlett was BRILLIANTLY cold. There was so much tension in that scene and I loved every minute of it. I always find that when I have sympathy for someone I know to be a villain, that's the work of true genius on screen. Remember how you felt bad for Doc Ock in Spider-Man 2, or (maybe) felt bad for Anakin (just a little bit) in the Star Wars prequels? I (usually) chalk that up to excellent writing and a great character portrayal, and that's what I felt with Owain Yeoman's Benedict Arnold. We all know that Arnold (REVOLUTIONARY WAR SPOILERS AHEAD) turns and fights for the British, but the story of how he gets there is more nuanced and complicated than I could have imagined.
I'm very impressed with Turn's latest installment, and if they told me anything this week, it's that they know how to keep the momentum going. Hopefully, they continue this same approach as Turn inches toward its close.
What did you guys think? Did you enjoy the episode as much as I did? Let us know!!
Turn: Washington's Spies airs Mondays at 10/9c on AMC.
[Photo via AMC]