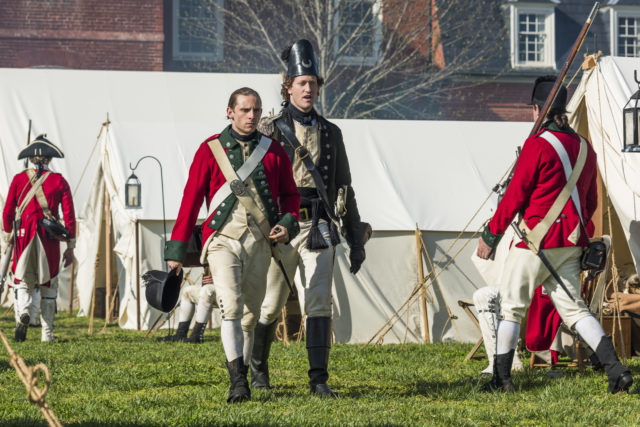 Once again, I must apologize for the lateness of my review. Especially since the summer began, Saturdays have been a tad inconvenient. But rest assured that I'm still watching, exercising my critical eye, and preparing for the final few episodes of TURN: Washington's Spies. "Belly of the Beast" served as one of the show's most exciting hours, and set up an even more exciting final few episodes.
TURN has become a really exciting show over the course of 4 years. Sure, it has had its problems and it's not a perfect show, but it adds dramatic flair to a lot of things that really happened. It has pulled characters off the pages of history books and breathed relatable real life into each one. Of course there are quibbles about historical accuracy, but what "Belly of the Beast" did (aside from set up for an epic last couple of episodes) is took a long running story about two men who despise each other and brought it to satisfying conclusion. I don't know that Simcoe and Abraham will meet again before the series ends, but the ending was so satisfactory that I hope they do not.
A little background on this stance, of course, is that both Abraham Woodhull and John Graves Simcoe survived the war in real life, but in fictional context, the two had a deadly feud. So to bring that feud to an end without severely altering American history, the two had a face off that ended without death. Abraham had previously gathered a serious piece of intelligence about Arnold's regiment from General Arnold himself, and Caleb Brewster's brief intervention allowed Abe to get the upper hand on Simcoe in battle. But killing Simcoe would have cost the Continental Army extremely valuable intelligence and Abe his life. At his core, Abraham is a spy, and so he instead took the intelligence with him and ran. I'm sure some fans will be dissatisfied that one of them wasn't killed, but the outcome was satisfying on several levels. I enjoy a good battle, but at its core this is a spy show, which made this a fitting end to the Woodhull/Simcoe feud. Jamie Bell brought such earnest nuance to Abraham, which matched perfectly with Samuel Roukin's sociopathy.
This episode clearly revolved around the Simcoe/Abe feud reaching a boiling point, but several other highlights made "Belly of the Beast" the best episode of the season so far. The re-ignition of Caleb's fight, Mary becoming a full-fledged spy, and Robert Townsend's partner finding him out were all incredible highlights (I'll touch on those more shortly) but the other highlight of the episode for me was the conflict between Washington and Tallmadge. As the first president of the United States, I think the character of Washington projects as an authority figure who shouldn't be questioned. Instead, Major Tallmadge challenged General Washington and was relieved of his post. As an audience we can see that Ben is right, but I imagine that it will take Abe's last bit of intelligence to put Washington over the hump on this one. Still, this conflict resulted in some of the best work that both Ian Kahn and Seth Numrich have done on this show. It was an absolutely marvelous collection of scenes.
Here are a few other thoughts:
Mary making herself useful in camp has been an excellent use of Meegan Warner, who has long been excellent on this show.
Everything with Robert Townsend was masterful. Nick Westrate and John Carroll Lynch were fantastic. I think that Townsend's partner is taking the bullet for him too. He's finishing the mix-up, and the British will come for him to find out that he has relinquished his half of the partnership.
Overall, this was a fantastic, exciting episode of TURN, and has me primed for the rest of the season.
What did you guys think? Did you enjoy the episode? Let us know!
TURN: Washington's Spies airs Saturdays at 9/8c on AMC
TURN: Washington's Spies Season 4 Episode 8 Review: "Belly of the Beast"
Summary
Abraham and Simcoe face off in the midst of a battle on this week's exciting episode of TURN: Washington's Spies.