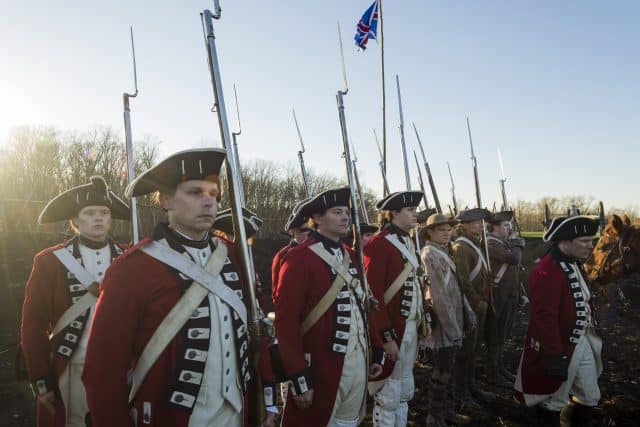 The third season of TURN: Washington's Spies has been by far its best. The intrigue and action, which used to take 5-7 episodes to really get rolling, have come in droves during this season. "Mended" was no exception, as it was packed wall to wall with spy intrigue, drama, and action. Each moment played an important role in the story, and it built to what should be an exciting final few episodes. Even this, the antepenultimate installment of Season 3, built the drama to much greater heights than this show has previously achieved.
This week on TURN: Washington's Spies: Anna is sent to meet with their last remaining agent in New York, Abigail, under the guise of a reunion with Major Hewlett. Simcoe bleeds Setauket dry for information on Rogers. Robert Townsend visits Abraham and Caleb with war-changing information. Judge Woodhull assists Simcoe. Benedict Arnold and John Andre prepare to meet. Outside Washington's camp, a great battle is fought.
Though I didn't even know it, and it only lasted briefly, I got to watch something I wanted to see desperately during this episode: a Revolutionary War battle. To watch the Continental Army strike down British forces, even dramatized for television, was immensely satisfying, and TURN's depiction nearly had me jumping out of my seat chanting "U-S-A".  I know how the story of the Revolutionary War ends, and yet watching it all unfold remains immensely satisfying.
The rest of the episode was just as good, it just wasn't "epic battle in the middle of the night" good. I was glad to see Anna get an important role to play. The flag she sewed back together was probably the most epic part of the episode, if not the season so far. To close the chapter on Major Hewlett, and have Anna do some actual recon was a much better use of Heather Lind (a phenomenal actress) than we've seen so far this season.
I really wish Abe would've gone with them to Washington's camp, but he's right, someone has to stand up to Simcoe. That man's methods are absolutely wack-a-doodle, and someone's gotta put him down. Okay, yes, I know that history tells us that John Graves Simcoe survives the war. But we've still gotta get him out of Setauket somehow, because yikes! Though Samuel Roukin's portrayal is both excellent and terrifying.
Probably my least favorite part of the episode was my favorite story falling by the wayside. Benedict Arnold still played an instrumental role in the episode, but there was very little screen time as a consequence. The big reveal to Anna that he's considering switching sides was wonderfully built and incredibly dramatic. Soon, they will figure out that he gave away the location of Washington's camp (albeit inadvertently) and I imagine that the season will end with General Arnold dawning his famed "red coat".
I will gladly take bets on what happens next! Hit up the comments!
What did you guys think of the episode? Did you enjoy it? Let us know!!
TURN: Washington's Spies airs Mondays at 10/9c on AMC
TURN: Washington's Spies Season 3 Episode 8 Review: "Mended"
Summary
Robert Townsend comes to Setauket with information pivotal to the war, which results in a great battle, on this week's excellent TURN: Washington's Spies.