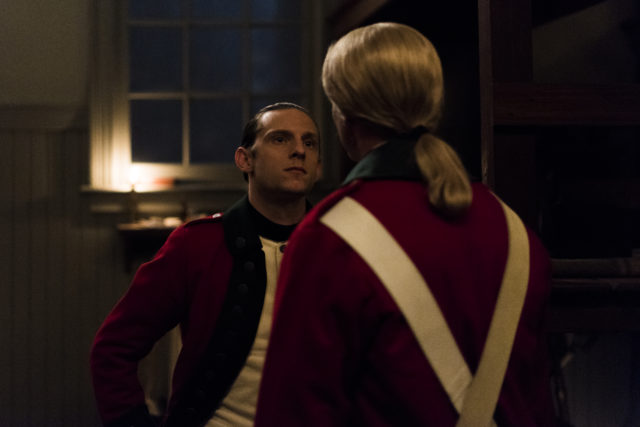 I should apologize again for the lateness of this review. The good news is that I've been covering San Diego Comic-Con, and I should have quite a few good things to offer my readers here in a few short weeks. Unfortunately, that means that my regular reviews have fallen by the wayside. More good news: TURN: Washington's Spies turned in another spectacularly tense hour this week. Let's talk about it.
Having become ever more aware of the history behind this show, part of the tension had everything to do with worrying that TURN would go further off the rails from history. The killing of Judge Woodhull proved to be a fairly strong deviation from that source material, and certainly the capture of Arnold and/or the killing of Simcoe would prove to be a major deviation. But, none of that happened. What happened instead was an expertly played game of cat and mouse, proving to be another terrifically tense episode.
Arnold (Owain Yeoman) was once the great tension bringer in this show. Adding him brought a whole new set of stakes to the show. However, it seems that is hasn't become necessary for him to be a part of the action to bring the tension to the show anymore. All he has to do from his new position is mention Woodhull in front of Simcoe, and everything comes crashing down. The rebels are working on a plan, Woodhull and Hewlett another, and Simcoe looking to foil that plan created an immense amount of tension, and it was extremely fun to watch. So even though the action of the episode itself barely included Arnold, Yeoman has done such an incredible job with the character that his slightest movement tips everything in the episode a certain direction.
I actually appreciate that TURN chose to deviate from history in the specific instance of killing Judge Woodhull. Here's why: Judge Woodhull being killed off absolutely skyrocketed the stakes of this show. Because if you're killing characters off who have historically survived the war, then any of them could go. So this little move they made several episodes ago is still paying off in a big way. Before it, I would not have been invested in this cat and mouse between Simcoe and Woodhull because I know neither of them die, but with the deviation in play I have no idea what will happen next, and it's quite exciting!
Another point that this episode makes is that it's possible to revere history and be a feminist. Anna Strong and Mary Woodhull have both been essential in the war and spy effort to this point. This show does a great job of not diminishing the female roles because of the historic roles that men played, but rather acknowledging the state of their social standing and operating within that realm.
"Quarry" had pretty much everything you could want in an episode. It was exciting, tense, and characters were taking action and not standing pat. It even had a twist ending that I did not see coming, which was the deployment of Arnold's unit to Virginia, which puts Woodhull and Simcoe on a boat headed for battle. This will create even more opportunities in the final episodes to create tension and excitement as TURN finally ends its run. Though I'm sad to see this show go, I'm excited for the final few episodes.
What did you guys think? Did you enjoy the episode? Let us know in the comments!
TURN: Washington's Spies airs Saturdays at 9/8c on AMC
TURN Washington's Spies Season 4 Episode 7 Review: "Quarry"
Summary
Abraham and the rebels try to round up Arnold and Simcoe before it is too late on this week's tense, exciting TURN: Washington's Spies.