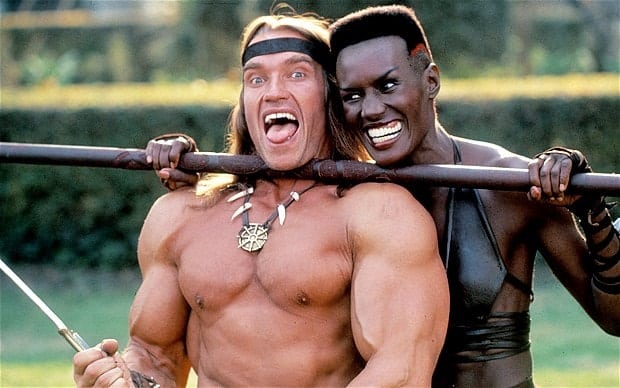 Amazon is taking on a new project that is a collaboration of "Game of Thrones" director Miguel Sapochnik, "Colony" co-creator Ryan Condal, and executive producer of "The Handmaid's Tale", Warren Littlefield. It will be based on the Robert E. Howard series of books. The storyline will have Conan being rejected as a mindless savage as he journeys through the civilized world trying to find meaning and purpose to his life.
For Amazon, this is a continuation of their exploration into the fantasy-drama genre that has the number of viewers for the "Game of Thrones" increasing every season, even as the series reaches a conclusion. Amazon has already begun working on a "Lord of the Rings" television series, which given the out of this world success of the movie franchise, is a considerable risk. But the streaming audience has been following the recent Netflix offerings, so a certain amount of risk is necessary to remain competitive.
We are not expecting to see a return of Arnold Schwarzenegger to the lead role, but it is generally agreed he has the most successful face of the many attempts to give some momentum to the Conan character in the movies. That is one question that needs to be answered – who will be sought out for the leading role? Netflix has been able to lock on to some A-level talent for its content, and any fans of the Conan character in books, movies, or animated series will be looking for a hulk they can identify with.
Another question to be asked is whether Amazon is willing to use substantial graphic violence in the series. According to many viewers, the Netflix trend has been to have more of a modest amount of graphic violence to some of its newer content. This can be a problem for Amazon and many of its Prime subscribers because a healthy amount of the Prime content is family oriented. There is little doubt Conan can become very graphically violent very quickly, and Sapochnik and company may decide it is necessary to stay true to the character of the books.
But the target audience demographic is key here. Graphic violence may add a realism factor for some viewers, younger viewers are more interested in seeing the storyline develop the characters rather than just mindless violence, which is possible if there is too much focus on the Barbarian part of the character. Part of the question relates to how long Amazon expects the series to last. Amazon has already committed to a multi-season "Lord of the Rings" series, so they can only afford to put so much into the risk pool.
As a matter of Conan history, the character was created over 85 years ago but unlike "Lord of the Rings" the essential spirit of Conan was lost in screenwriting translation. Ryan Condal has a personal interest in reviving this essential character. Perhaps Amazon sees the potential in this fantasy genre by following the "Lord of the Rings" success formula by staying true to the original character in the book. Conan was able to stay in the minds of fans for more than 8 decades, so there must be something that keeps people coming back over several generations.
One thing is for certain. Amazon has assembled a quality group of producers who can create a firm foundation to build on for franchise success. There is enough talent and experience here to make a run, so it might all come down to the actor who will be cast as Conan. Thus far, Schwarzenegger has been the only one to successfully pull it off.