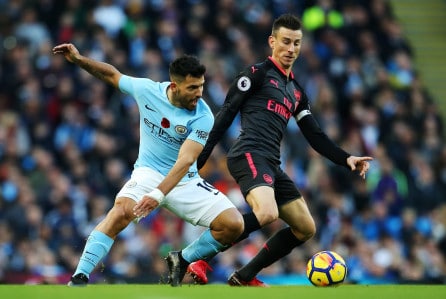 At this rate everything is going to belong to Amazon or Disney in the future to come. Amazon, that little thing that some people thought wouldn't catch on so long ago now, is turning it's sights towards soccer in the UK Market and is starting out with one of the most popular teams and their lives on and off the field, Manchester City. Any soccer fan knows that no matter if Manchester has a good or bad season they're bound to remain a big fan favorite and will no doubt be watched as a general rule. Amazon is no doubt banking on this and has decided to create a series that will follow the coaches, the players, and the legends that have made the sport what it is today.
It used to be if you wanted to know anything about your favorite sports teams and those involved with them you'd have to know someone on the inside or pay close attention when they decided to divulge their secrets and personal lives. Now however most of them are more than willing to let people into their personal lives so that they can make more money from the shows that basically invade their personal lives and in some cases make a mockery of what they go through on the field and off. Some shows are respectful enough that they're worth watching but others seem like they're just a bunch of hype made for those that want to intrude on the lives of the players, coaches, and anyone else that doesn't seem to mind.
These shows tend to highlight the lives of the players and how they managed to get to where they're at, the struggles and the effort they had to put in so that they might compete the highest level. That's if the show's being honest and letting people tell their stories without any edits however. The truth about a lot of these shows is that for every ten you might get some realism out of about five if you're lucky, six if they don't want the ratings to go up too high. That's usually because people want sensationalism, they want to be lied to at times just to be entertained. While these types of shows do manage to gain fans and stick around for a while they tend to fade out eventually in favor of something that's not as real and can be easily manipulated.
The typical manner in which you'll see a show like this rise and fall is that they'll come in with a bang, either with or without a celebrity to host the show, and then they'll kick off from as close to the beginning as they can get so as to add some veracity to the show. Then, depending on if it's a series or a single show, they might add in a few celebrity guests to give commentary or they might stick to known names and faces to give it authenticity.
Either way, the ratings will spike and then drop. It's a fairly common fact that needs to be addressed.