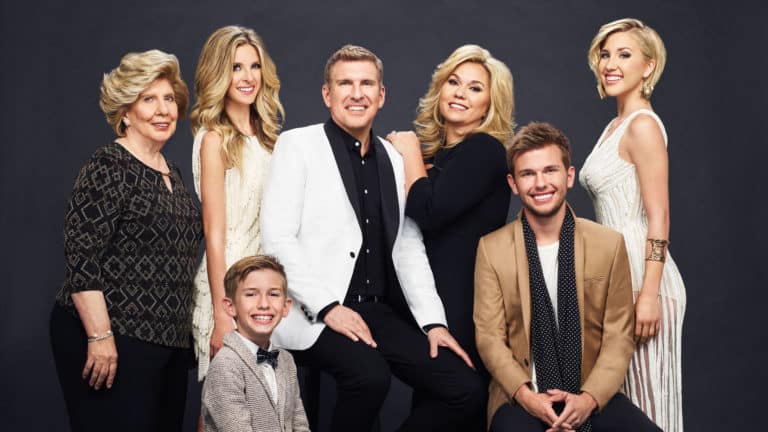 So far we've had five seasons of the lives of wealthy Georgian family, and we can't tell you if we're ecstatic for more or not. The Chrisley's are definitely an acquired taste, but for some reason, the more we watch them, the more we find ourselves glued to their lives. Now that the show Chrisley Knows Best has been renewed for a sixth season, we feel that it's time to take it all into consideration and see why we might actually love this family and their show. We've come up with five of the best life lessons that we've picked up just from following them from episode to episode.
1. Keep things in perspective.
The Chrisley parents Todd and Julie share the same type of attitude about life. It's about accepting what you have and moving on. It's about the realization that life really isn't fair, and the sooner you realize that, the sooner you can get on with it. They don't mean that you shouldn't push for what you want; they just believe that you get what you get, and you shouldn't get upset. Well, the Chrisleys pretty much get everything they want, so life really isn't fair.
2. Give credit when it's due.
No one knows hard work better than Todd Chrisley, and he also knows it when he sees it. The self-made millionaire doesn't shy away with giving credit where credit is due. If you earned it, then you deserve the praise. However, he's also the type who can't be fooled. After all, no one gets to where they're at without knowing what they're doing. If you see people faking the funk, don't be afraid to call them out. If you see people working as hard as they possibly can, let them know you notice. Appreciate the hard work.
3. If you don't like it, say you're allergic to it.
This goes for food, but it can also apply to everything else in life. It's possibly the most polite way to refuse food you don't like, but if there are other things in life you'd like to refuse politely, there's a way to do it without hurting anyone's feelings. It's all about using your imagination and creativity, which the Chrisleys have an abundance of. You don't have to flatly say "no" if you'd rather not. Skirt around it. Say you're allergic.
4. Never settle.
If you go about life giving it all you've got, you shouldn't settle for less from everybody else. Don't get impressed too easily. This may mean that you should raise your standards a little bit. Whether it's with work, your relationships, or yourself, you shouldn't settle for anything other than the best. The Chrisleys are successful because they never settled and they still don't.
5. Have confidence in yourself.
In its most basic sense, you should give yourself some credit. If you work hard to get what you have, be proud. Be confident in your abilities. Dress yourself well. Treat yourself well. Make a grand entrance and announce your own arrival. Don't shy away from people's gaze. Be empowered by your own self. There's nothing more uplifting than having you believe in yourself. Be your own greatest fan, as the Chrisleys do, and trust that you'll make everything happen for yourself.