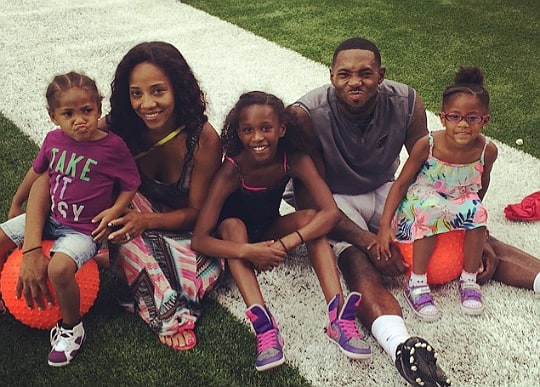 "The Cromarties" is a docu-series that is based on the life of the former NFL all-star, Antonio Cromartie, as well as his wife Terricka. The series, which is considered a comedy, focuses on the challenges they face raising a blended family of six children. Some interested facts and information related to this show can be found here. If you haven't watched before, the interesting info may convince you to do so.
Antonio is the Father of 14 Children
While the show mostly focuses on the life of Antonio and his wife, and their children, it doesn't show that Antonio actually has 14 children. Of these 14 children, there are eight women involved as the mothers. This is a pretty big family for the former NFL star to juggle.
Antonio Had an Impressive Football Career
During his time in the NFL, Antonio played as cornerback. In fact, he got to play in his first Pro Bowl back in 2007 as a member of the San Diego Chargers. He then played for the New York Jets from 2010 to 2013, then spending a season playing for the Arizona Cardinals before he rejoined the Jets in the 2015 season.
Terricka Gave Birth to Twins after Antonio had a Vasectomy
In January of 2016, the family shocked everyone by announcing that they were expecting twins, even though Antonio had recently undergone a vasectomy. This makes a total of four children for the couple. After being born on Mother's Day, the twins were named J'adore and Jynx. It was a hard decision to share the news about the babies and something that the couple only did after it was obvious that people would find out.
Terricka Faked a Suicide to Get Antonio's Attention in 2013 Reportedly
According to a report in the New York Post in 2012, Terricka was said to have tried to commit suicide while her husband was still playing for the Jets. The reason for the attempt was to get her husband's attention according to the article. There were reports that she had written a note to the player and another that stated she slit her wrists and took pills.
During the time of the event, Antonio was actually in Miami, and when he sent the police to his wife, they discovered she was not bleeding or attempting to kill herself.
Terricka Appeared in another Series in the Past
In 2009, Terricka appeared in the short-lived series that was called "Candy Girls." She also worked as a model before her and Antonio got married. The new show was what the couple wanted, as they wanted to be in the spotlight and show off their family, friends and life to others.
Now you are "in the know," about this new television series. If you like real-life drama and want the opportunity to get a glimpse in the life of someone else, then consider turning into this show.