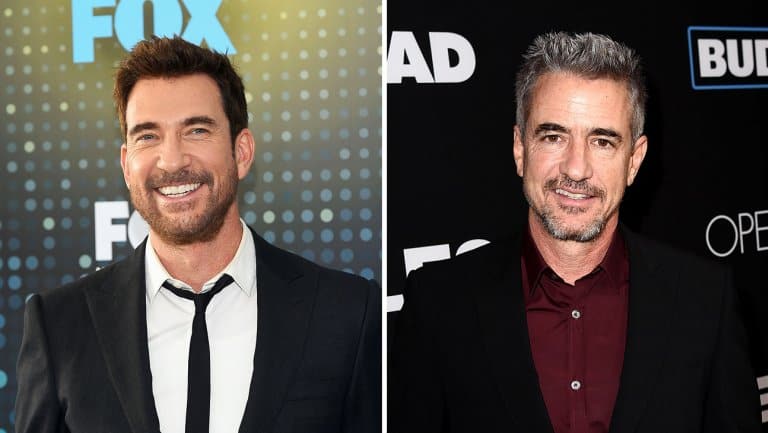 Dermot Mulroney and Dylan McDermott are teaming up so they can play opposite one another on the Fall comedy that is coming to Fox. "L.A. to Vegas." What makes this pairing so great is the longstanding jokes that have been made about the similarity in their names and the faint physical resemblance that they share as colleagues in the acting profession. They'll make their appearance as rivals on one of the episodes of Dylan's new show. Here are five things that you need to know about the series.
1. McDermott's character will remind you of Ron Burgundy
All you "Anchorman" fans are in for a real treat. The main character for " L.A to Vegas" is set to have the same flavor, but this doesn't really come as a surprise. The influence comes from the involvement of Adam McKay, Chris Hency and Owen Burke, not to mention, Will Ferrell. The director of the series is Steve Levitan who is responsible for "Wings," "Frasier," "Just Shoot Me," "Modern Family" and "The Larry Sanders Show."
2. Dermot Mulroney will appear a a guest star
Mulroney isn't going to be a regular on the show, but he will appear during this season as Capt. Steve. His role will be as a rival airline pilot who is out to show McDermott's character, Dave Strangely up. They are set to go head to head, but Capt. Steve will have better international routes, he'll be charismatic and will have a personality that grates on Strangely's nerves. It will be interesting to see how a dueling pilots episode works.
3. "L.A. to Vegas" will premiere midseason
Executives are not yet releasing the exact premiere date, but we're told that it will first air sometime during the middle of the season this Fall. The show is set to be a workplace comedy that features the crew of an airline company who make roundtrip flights from Burbank, California to Las Vegas, Nevada. Production of the episodes has recently kicked off within the past week.
4. Rotating characters will bring surprises
We're promised to be entertained by the lineup of passengers who come and go on the airlines. From the recently released promotions, we can tell that there are going to be some eccentrics on board. This should help in setting the stage for some off the wall comedy scenes. Given the media exposure of current issues involving airline treatment of passengers, the writers will have plenty of fodder to pick and choose from.
5. Comedic cast sets the show up for success
Joining McDermott, who plays a narcissistic captain in the regular cast, is a group of comedians with proven track records. His flight attendants will be Ronnie, played by Kim Matula of "UnREAL," and Bernard played by Nathan Lee Graham of "Zoolander." In addition, there will be some regular passengers who make up the remainder of the cast. They include "The Mindy Project" star Ed Weeks, Artem, who is a professional gambler, played by Peter Stormare of "American Gods," and Olivia Macklin of "The Young Pope" in the role of Nichole, a happy go lucky stripper. We have high expectations for the success of "L.A. to Vegas," coming this Fall.
Save