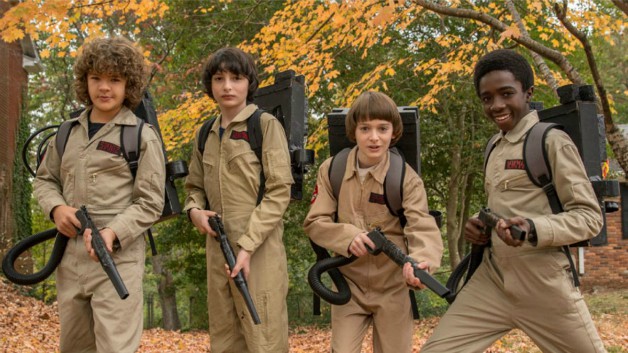 Netflix is pulling in viewers with their absolutely addictive series "Stranger Things." Newbies who just found out about it are busy playing catchup. The Duffer brothers know how to hook us and keep us in suspense. Although particularly appealing to kids who enjoy a good scare, people of all ages are finding themselves hooked on the series. If you like the show, there are five other series that may become your new favorites. Here are the shows that are similar to "Stranger Things," and where you can find them.
"The OA" (2016-)
"The OA" is a Netflix series that premiered its first season in 2016. After watching just one episode, you'll get the same feeling that you do when watching "Stranger Things," except there are adults in the roles that are occupied by children. This show centers around a blind woman who turns up missing. When she returns, she has her eyesight back. You get all of the mystery and hints of another dimension throughout the season. You can catch this series on Netflix free when you have a subscription.
"Twin Peaks" (1990)
There have been a lot of inferences made about "Twin Peaks" in "Stranger Things." It gives you the same sense of eeriness. The great mystery of the oldie but goodie is about finding out who Laura Palmers murderer is. This is the David Lynch show that served as the inspiration for the Duffer brothers to create "Stranger Things" to begin with, so if you haven't seen it, you may want to give it a try. You can watch "Twin Peaks on Netflix, on Hulu with a subscription, on YouTube, Amazon, iTunes, Google Play or Showtime.
"Wayward Pines" (2016-)
This is an M. Night Shyamalan creation that was also inspired by "Twin Peaks." "Wayward Pines" launched its first year in 2016. The story takes place in a rural town that is strange to say the least. All of the townspeople are odd. There is hysteria about and there is also an occasional act of violence. The show centers around Ethon Burke, played by Matt Dillon, who comes upon the town, then slowly begins to discover what is really going on. You can catch "Wayward Pines on Hulu, Google Play, iTunes, Amazon or YouTube.
"Black Mirror" (2011-)
"Black Mirror" is a series that is classified in the anthology category and the sci-fi genre. The show takes a hard look at how technology can be dangerous. While this may not sound that scary, watch a few episodes and see how you feel about your television, computer, or phone. The episodes are randomly scattered with hilarious comedic moments, and some that will chill you to the bone. You can watch "Black Mirror on Netflix.
"The X-Files "(1993)
You had to know that we were going to include "The X Files" in our list. It's the show that combines sci-fi with inexplicable events. Two FBI agents, Scully and Mulder are sent to investigate things that are not yet understood by traditional methods. Mulder's preoccupation with extra terrestrial aliens combined with other crazy phenomena. Does this sound familiar when you think about Joyce Byers and Jim Hopper? You can watch "The X Files" on iTunes, Google Play, Amazon, YouTube or Hulu. It's coming back in 2018 so get ready.