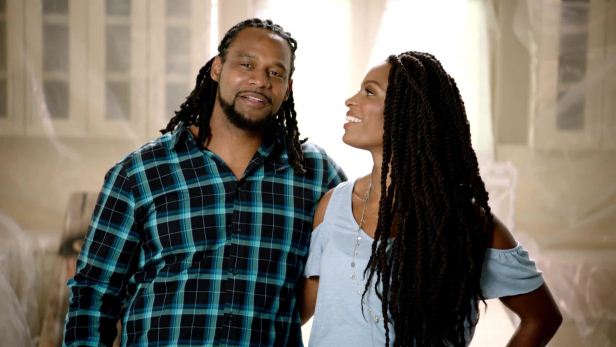 'Flip or Flop Fort Worth' is part of the 'Flip or Flop' franchise of television series that revolve around a couple buying a house, flipping it, and then reselling it. 'Flip or Flop Fort Worth' is a series that is based in Fort Worth, Texas, and the surrounding area. The show aired on HGTV for the first time on November 2, 2017, and will run for nine episodes. The show is hosted by married couple Andy and Ashley Williams who follow the same format as Tarek and Christina who were the hosts of the original version of the show. Here is what you need to know about the hosts of 'Flip or Flop Fort Worth'.
They Are Military Veterans
Both Any and Ashley are military veterans and they met in the gym when they were both on tour in Baghdad, Iraq. While Andy served in the Marines, Ashley was in the Army. Andy asked Ashley if she needed a personal trainer and began visiting her during her night shift. She developed a friendship first before taking their relationship further.
They Became Real Estate Investors
When they left the military, they needed to transition into civilian life. This is something that many military veterans find difficult. Although Ashley quickly got work, she was constantly getting feedback that she was too direct and intense. For this reason, she was finding it hard to fit in. Prior to leaving the army, Andy was already investing in real estate. They decided this was something they could do together to help them transition back into civilian life. Now they are working together in real estate investment, they run their projects with military precision.
Their First Home Together was Tiny
As real estate investors, people often assume that they have always lived in amazing houses. However, the first place they shared together was tiny. In fact, while they were serving in Iraq, they were living together in a construction trailer that measured just 200 square feet. It certainly wasn't a glamorous lifestyle.
Andy Focuses on Heritage and Ashley Loves Design
Any was born and raised in Texas and his heritage is important to him. He loves to buy houses in Fort Worth and stay true to the local culture in the real estate he buys. He believes that each of the local communities has a different story to tell and he feels blessed that he and Ashley are involved in revitalizing these communities. For Ashley, it is all about the details of the designs. She loves to use textures and to add accessories to the design of the properties they flip.
Real Estate is a Family Affair
Andy and Ashley have two children together; Ashton and Amina. The couple has already got their children involved in running the family business by allowing them to help source houses to buy. On Sundays, the family drives around together looking for potential properties to buy and renovate. The children give their opinions about whether it should be the family's next endeavor or not. They call it 'driving for dollars'.