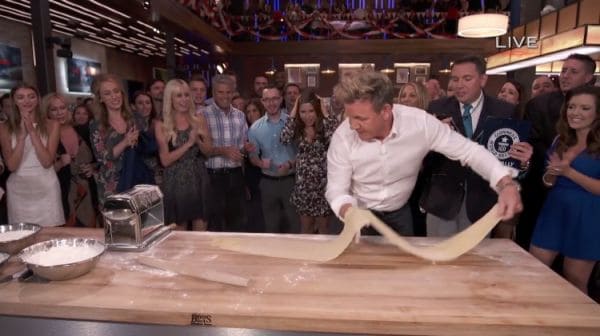 Chef Gordon Ramsay managed to set the world record for the longest pasta sheet rolled in a minute, and it was kind of fun to watch really. He couldn't have any rips or tears in the pasta which meant that he had to go quickly but work with such care and precision that he didn't allow the work he'd done to be undone by any kind of mistake. This was something that the average person might look at and think "I could do that". You might need to think twice if you're one of those folks since Gordon Ramsay has a couple decades and more of experience at his job and could easily outpace professional chefs let alone people that cook at home and think they're exceptionally skilled. No offense.
Throughout the entire minute though I'll admit I was waiting for him to slip up just once, to tear something, to rip something, or to somehow whip that dough just a little too hard. It didn't happen and as impressed as I already am with Ramsay, despite his attitude on his shows, I became even more so when he produced a flawless sheet of pasta to the judge for measuring. The sheet came out at just over four feet, which obliterated the old record by close to nine inches, which is simply amazing. I do have to wonder however when the old record was made and what kind of tools were used. Pasta has been around for well over a few centuries now but there is still a rolling controversy about whether it really came from Italy or if it possibly came from China.
The issue is kind of moot since a lot of people tend to believe it came from Italy so that's where the matter rests. But back in the day before it was such a big thing everywhere as it is now I have to wonder just how this record was set the first time, whether it was with a rolling pin and someone's hard work, which would be exceptional, or if there was a similar machine that rolled it into a sheet like this but with more work involved. Upon looking however it might be that such a record never existed at all and that Gordon Ramsay has set the record all on his own. In this case he's just put a target on his back in a way for the next chef to come along and try to break it. Something tells me he's not too worried, but that he'll welcome the challenge if it comes down to it. At this point I don't know of a lot of chefs that could do this so delicately and in such a short amount of time. Even beating him by a half inch would be enough, but is there anyone out there willing to try?
My best guess says that of course there is, they just haven't stepped up yet. Give it time and people will find something they can excel at. Ramsay's record might stand for a while, but one day it could very well fall.