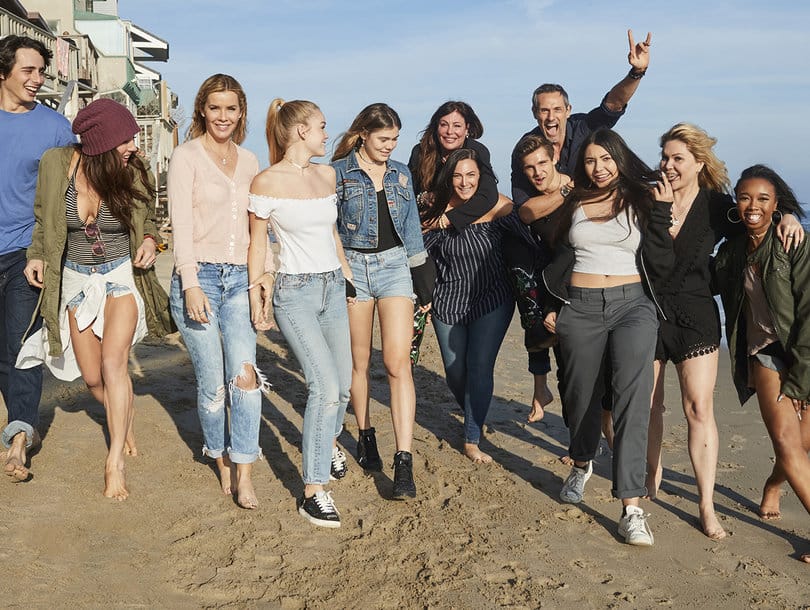 Who knew that some of the world's top supermodels could not only work the runway, but also offer up quite a few parenting tips? Now, we know they can, thanks to one of Lifetime's newest shows, Growing Up Supermodel.
The show follows seven celebrity children, including the daughter of Beverly Peele, who has graced the cover of more than 250 magazines, and Shanna Moakler, Miss USA 1995, as they try to make a name for themselves in the world of modeling. Also appearing alongside Cairo Peele and Atiana De La Hoya are Faith and Cambrie Schroder (daughters of Ricky Schroeder), Arissa Le Brock (daughter of Kelly Le Brock), Janis Ostojic (son of JD Ostojic), and Jake Moritt (son of Krista Allen).
So, what exactly have we learned from the parents of these aspiring stars? Here are 5 parenting lessons Growing Up Supermodel teaches us.
No one gets a free ride.
It's easy to assume that being the child of a celebrity would make it much easier to break into the modeling industry. That's not the case, according to Shana Moakler. Although your name might open the door, everyone still has "to go out and prove to people your talent, your worth." Parenting lesson learned: All parents should make sure their children know there is no such thing as a free ride. Everyone has to prove themselves to others. 
There are positives to staying out of the spotlight.
When Kelly Le Brock divorced Steven Segal in 1996, she packed up everything and left Hollywood, choosing to live with her children "up in the mountains, in the middle of nowhere." Here, she and her children were happy living as farmers without a TV. Parenting lesson learned: Parents should teach their children that not everyone has to stand out. It's perfectly okay to be content while living a quiet life. 
You have to make your own mark on the world.
Similar to what we've learned from Shana Moakler, Ricky Schroeder was quick to tell his girls that having famous parents can only open so many doors for them. In fact, both girls admit that their dad's stellar reputation in the industry was what helped them get their first job. Now, it's up to them to do the rest. Parenting lesson learned: While it's okay to help your children, you ultimately you have to teach them what they need to know to make their own mark. Then, you have to sit back and let them do it.
Money comes and money goes.
In one episode, Beverly Peele pointed out to her daughter that she made her first million dollars at 14. She followed up by telling her that she lost her first million at 17. It's definitely something to think about. Just as easily as you make money, you can lose it. Parenting lesson learned: Teach your children the importance of saving money because once you've spent it on frivolous things, it's gone.
When one door closes, you have to open another one.
When Janis Ostojic learned he would have to stop playing soccer because of compartment syndrome, he was depressed. After all, not only was it what he loved, but it was also something he excelled at. (By 19, he was playing at Belgium's highest level.) That's when he turned to modeling. Parenting lesson learned: Parents should let their kids know that when one door is slammed in your face, you can't just sit back. You have to open another door and keep going.
Save