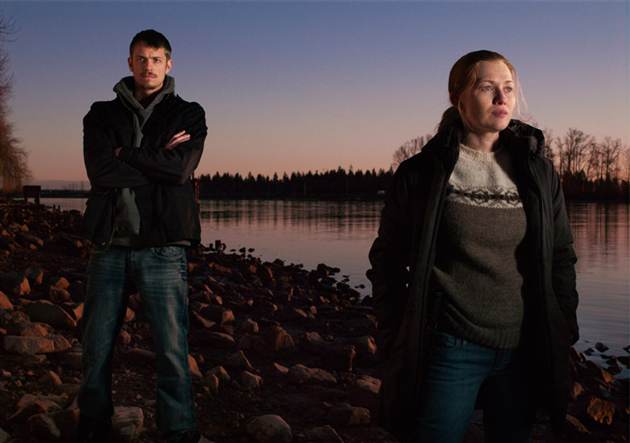 AMC is starting to scare me again. While I've been unable to find time for the show The Killing (Game of Thrones and Treme count as priority shows for me), I do have a stake in it — I plan to watch the series over the hiatus between Breaking Bad and The Walking Dead. But will it be worth it for me to tune in if the show doesn't get a second season? Probably not — the disappointment of Rubicon's cancellation is still too fresh, even months later.
So here's the question: is The Killing going to go the way of Rubicon? AMC's only cancelled one show in its history of original programming dating back to Mad Men, but could it take down another show? They're taking a long time to decide whether to renew The Killing, a sign eerily reminiscent of the slow build to Rubicon's death. The Killing's star, Mireille Enos, however, doesn't seem to be that bothered.
"Historically, AMC is slow about making those decisions," she tells TVLine. "But everything is pointing in the direction [of a renewal]. And I know that they've been very pleased with the response. We're all just so grateful, because we felt that we were part of something really special, and then to have the response come back and confirm that is really gratifying, and it encourages us that there may be the possibility to keep telling this story if there's a second season."
In fact, Enos says that there are plans for "several" seasons, provided the show is renewed. The show's next episode, "I'll Let You Know When I Get There," airs Sunday night on AMC.