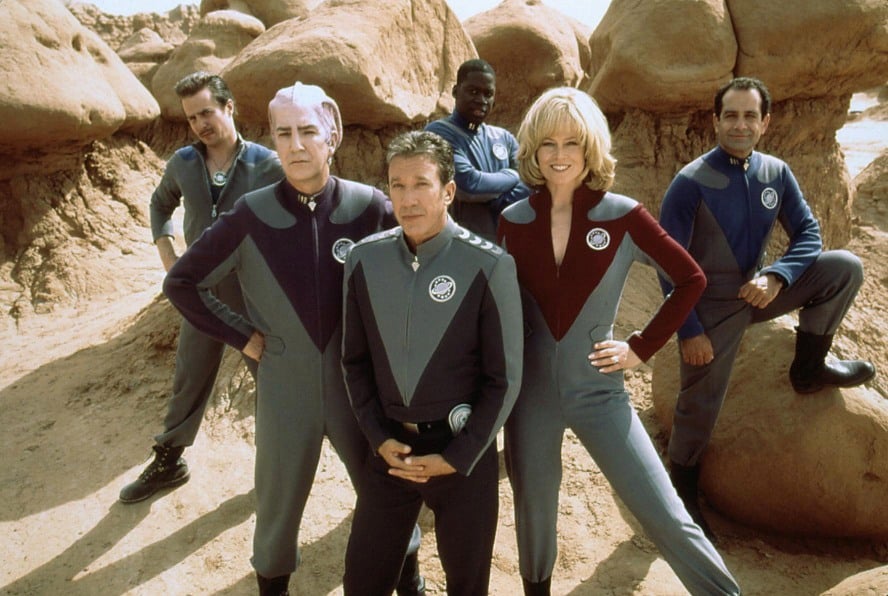 Galaxy Quest was a sci-fi movie with extensive comic elements that came out in 1999. For those who are unfamiliar with the movie, it was centered around the cast of a fictional TV show of the same name that had managed to reach cult status but nonetheless came to a conclusion. Unfortunately for them, a group of aliens mistook their in-show adventures for documentations of their real experiences, with the result that they are drawn into an interstellar conflict for which they are wholly unprepared. By this point, it should come as no surprise to learn that Galaxy Quest was a rather affectionate parody of sci-fi franchises such as Star Trek, though it is important to note that its success in building up a sizable fandom was helped by the strength of its comic elements as well.
What Are the New Plans for Galaxy Quest?
Since Galaxy Quest was so successful, it is no wonder that there is some interest in seeing a continuation. After all, the movie came to a conclusion with the cast receiving a second chance in the form of a revived series, which happened because they generated an enormous amount of buzz by crash-landing a spaceship in the middle of a fan convention. As a result, there was a wide range of possibilities for what a follow-up to the movie could look like, which is something that has been known to trip up other revival efforts of other franchises from time to time.
Regardless, people who are interested in Galaxy Quest should know that the plans for a follow-up have been building momentum ever since 2014, which was when it was revealed that there was a script. However, the efforts to launch the follow-up encountered a serious obstacle in 2016 because of Alan Rickman's death from pancreatic cancer, which was such a huge problem that some participants became unsure whether it would ever happen even though the chips had been falling into place before that point. However, it is now clear that a Galaxy Quest follow-up will indeed be happening as a series on Amazon with Paul Scheer as the writer.
What Can We Expect?
Recently, Scheer released a fair amount of information about the Galaxy Quest follow-up, which should prove interesting to the fans of the movie. For example, the follow-up will indeed be following the continuing adventures of the cast from the movie. However, the follow-up will be focusing on a second set of characters as well, thus resulting in a serialized narrative as opposed to a series of separate episodes that will see the stories of the two sets of characters converge over time.
Furthermore, Scheer has mentioned wanting to explore some of the differences between the cultural mindset when the Galaxy Quest movie was released and the cultural mindset of the present, which could prove interesting because of how much more sci-fi and fantasy franchises are accepted as being part of the mainstream in modern times. Regardless, it will be interesting to see why there is a second set of characters in the Galaxy Quest follow-up as well as how their presence in the narrative will help Scheer examine the points that he is interested in, though that will have to wait for more information to come out as progress on the series continues to be made.