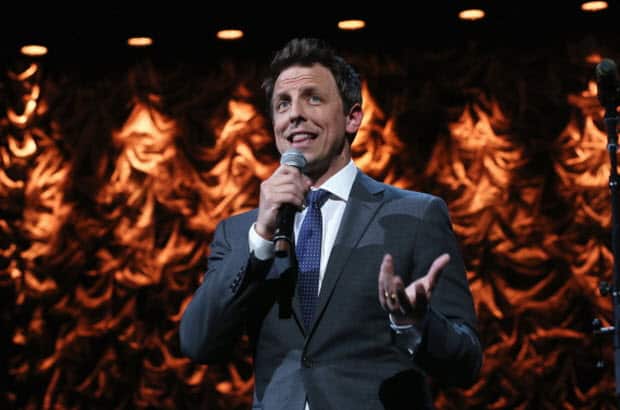 So tonight is the big night for Seth Meyers. Late Night with Seth Meyers premiers tonight at 12:35 on NBC. Crazy to think a kid from New Hampshire could grow up to be a featured writer on SNL, the news anchor for Weekend Update, and then get a late night talk show given to him by hos good friend and fellow coworker, Jimmy Fallon. So what can we expect for Seth Meyers version of late night? The beautiful thing is, I don't even think he knows yet.
A big part of getting your own talk show finding your voice and pacing, and that does not happen in a first episode, or even a first year. You look at someone like Conan O' Brien and you realize, his show was quirky, but for the first few years, was kind of, well, bad. But he found his niche (likable self deprecating every man) and now he is one of the greatest hosts on late night.
When you look at someone like Jimmy Fallon, you can see he kind of followed Conan's lead. Likable, easy to relate to, and humble. I think we can safely assume Seth Meyers will follow that school of charm. Not every man can pull off the David Letterman snark, and it is probably for the best. That can be awkward when in the wrong hands.
So in closing, I think we all need to give Seth Meyers some time to find his flow on this show. It is not easy stepping into someone's beloved footprints, especially when you have never done the job before. Worst thing we could do is come out of the gate swinging and not give him a chance.
[Photo via Larry Busacca/Getty]