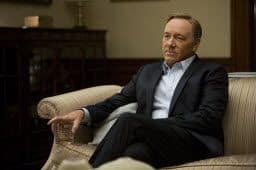 Wouldn't it be cool if instead of having to wait a week for the next episode of your favorite series the networks just dumped the entire season into your DVR and you could watch it at your leisure? Welcome to last Friday.  Netflix kicked off this bold new experiment in TV entertainment with the series House of Cards, and starring Kevin Spacey with David Fincher directing it was looking more like legit prime-time than any kind of experimental on-demand series.
House of Cards stars a resuscitated Spacey as an activist politician out to carve his name into the foreheads of his enemies.  It's engrossing, smartly acted, and you can watch the whole thing beginning to end if you want due to Netflix's series packaging.  I think we can safely drop the 'experiment' moniker though, because this scheme of launching a new series by dumping all 13 episodes into the Netflix bucket at once is being applied to a fleet of new programming, which includes some familiar names.
"In my mind, this is pretty game -changing," says Carlos Cordero, director of service provider practices for Cisco Systems, a California-based networking technology company. "I think broadcast and cable TV should be very nervous."
Doubtful they will be 'nervous', when a great idea shakes up your industry the 'nervous' are usually the ones that end up going extinct.  It might be more appropriate to say that they she should be 'imitating.'  Reaction to Netflix's highly successful lift off of this format has even helped the company on Wall Street.  When they announced their plans to begin developing their own content their stock picked up a 42 percent boost.
Since the format isn't even remotely 'ratings' based, it might take some time to quantify how much of a success House of Cards actually was, but whether it was reeling in viewers by the billions or continually attracts new viewers by the thousands Netflix doesn't have to worry, this is a volume game for them and their upcoming releases will give them myriad chances to either forge their first hit or accumulate a viewing base that makes it all worthwhile.
Recently Netflix has made a bid to bring a third season of The Killing to their format, after the series was cancelled by AMC.  Whether they secure The Killing or not they have already secured a highly unexpected season of Arrested Development, which will drop in May.
Among the original titles on the horizon there is Hemlock Grove from Horror Maestro Eli Roth, which will be released in its entirety on April 19th.  Weeds creator Jenji Kohan is currently working on Orange is the New Black, set in a woman's prison and starring Taylor Schilling, Jason Biggs and Laura Prepon.  Ricky Gervais and his frequent castmate Karl Pilkington are preparing "Derek", about a "good-hearted attendant at an old-folks home."
It seems that Netflix is even redefining the creative end of the industry.  While working with smaller 'seasons' of 13 episodes, the company has earmarked enough cash in projects like House of Cards to allow them the opportunity to earn an audience.  House, for instance, was approved for two seasons up front, a move you'd likely never see in the mainstream.
If Netflix is able to continue to attract talent at the level of Spacey and Fincher by being patient patrons of the arts, while working with a presentation model that sidesteps the number one factor vexing viewers, waiting, they may shake things up in the short term for sure.  However, maybe waiting is part of the TV experience.  Time will tell.