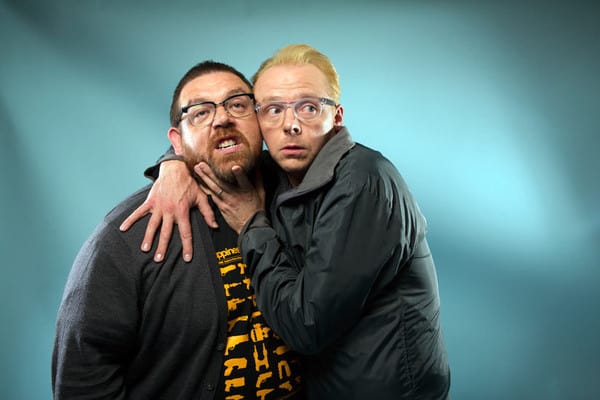 Let me preface this article by saying 3 things: I like Simon Pegg as an actor, I am neutral on my enthusiasm for Zombie movies, and I hated his involvement in the latest Star Trek movie. The reason for the latter comment can be seen in Pegg's own statement about making movies: "I'd rather have a lot less money and make a film or a TV series and have a great time doing it than put it through a million processes and people you don't know and you don't respect creatively."
So give credit where credit is due, his Shaun of the Dead was a box office hit and in tandem with Nick Frost they have put together some very good creative works. Their new project is a TV series called Truth Seekers which follows the adventures of a 3 person investigative team looking into paranormal activities. Episodes will air once a week and will be 30 minutes long. This is their first indie movie project under their newly formed company, Stolen Picture.
In case you were wondering (I had to be) a quick search found that this basic idea originated in Singapore, where the storyline is about a team of investigators who look into cold cases. So the name of their new company is the point where art imitates life. But when you look at their relatively busy schedule you get the sense that this first venture under Stolen Picture is more of a "we'll see what happens" event than a total commitment to creativity.
Frost currently has 3 acting roles in the hopper – the new Tomb Raider film, Fighting with My Family with the fan favorite Dwayne Johnson, and continuing with "Into the Badlands" in season 3 on AMC. As for Pegg, he has a starring role alongside The Wolf of Wall Street and I, Tonya star Margot Robbie in the upcoming Terminal movie, and is working on the next franchise installment of the Mission Impossible series, reprising his role as Benji.
So your view of Pegg (and Frost) depends on whether or not you believe that writers should write and actors should act, and there are few who can do both well. I take my cue from writer Larry David of Seinfeld and Curb Your Enthusiasm fame who says that when involved with Seinfeld early on he learned to let actors act – and he would stick to writing. It was a good decision for everyone: actors, writers, and the audience. I liked Pegg in his relatively minor role as Scotty in Star Trek but methinks he wasn't going to hitch his star wagon to the role or the franchise. Ditto for the Mission Impossible role.
Pegg and Frost are doing a TV series, basically a copycat version done more than a year ago with a few changes. Pegg talks about creativity, but this venture with Stolen Picture seems to be more than an investment and financial vehicle rather than a serious attempt at making a transition over to writing.
I admitted my biases upfront in this article and you can decide for yourself whether Pegg and Frost are really committed to turning out a quality TV series with Truth Seekers. But you should temper your expectations with the reality of being rich and famous. It is a world where everything is not as it seems.