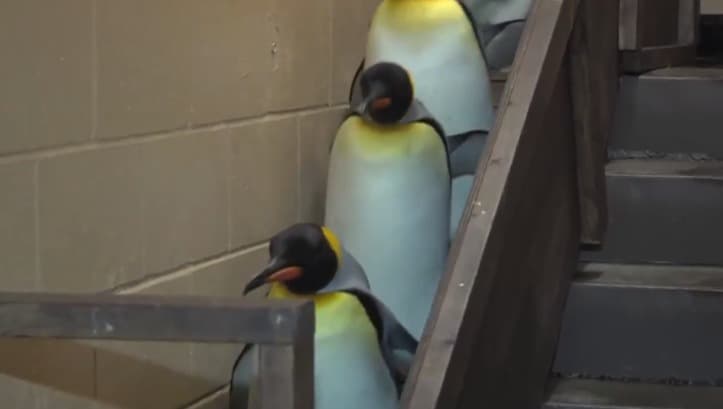 Even the animal world seems to want to get in the Star Wars craze as these penguin stormtroopers strut to the Imperial March just before introducing their version of Lord Vader. Honestly this dark black penguin looks absolutely menacing while the stormtroopers look just about as clumsy as they do in the movie. Maybe that's not fair, if you gave these little guys a blaster I'm sure they couldn't do any worse than their human counterparts. After all dumb luck could possibly replace most stormtrooper training if you really look at it. No one could really do much worse unless they managed to shoot themselves on accident with a blaster.
It would be a little creepy to see a red lightsaber suddenly spring from from the flipper of this last penguin even though it would be a CGI weapon. Penguins can be aggressive enough when they really want to be, I wouldn't want to see what any of them could do with a weapon if fitted with one. But the whole thing seems foreboding enough that the cute factor kind of disappears when the penguin posing as Vader appears. Imagine if a parody show had decided to take hold of something like this back in the day and capitalize on it, they'd have likely had a pretty decent act on their hands. Working with animals however seems like it can be an iffy thing and doesn't always go as planned. Something tells me a show or a movie or any kind of production like this would have to be completely CGI, like the Happy Feet movies.
This was pretty well done for what it was though. Penguins almost always seem to get the attention of a lot of people and are considered cute, adorable, cuddly, and many other words that might not be given out so freely if they saw this. I wonder if Vader could raise a flipper and choke someone being that he's a penguin. Would it work the same? what about Force lightning? Would it work at all if he just raised and waggled a flipper in a person's direction? Or how about the ability to fight without having to waddle everywhere as penguins do, how would that work? Could he use the Force to waddle faster or just levitate? There are so many questions to ask if Vader was a penguin.
Also, would Vader still be part machine as a penguin or would this version be amputation-free? That'd be an interesting spoof on the movie wouldn't it? The premise and plot would need a lot of work but it might be doable. I wonder if it might be able to be featured on Robot Chicken or something it that was possible. The ideas are there, someone would just need to run with it and make it into something unique. If nothing else it would have the element of surprise and confounded shock that might make people stop and stare. It's an idea at least. Maybe not a good one, but an idea.
Stormtroopers walking down the stairs followed by Darth Vader. pic.twitter.com/LoQhOtdkpq

— Sam Kalidi (@samkalidi) January 11, 2018