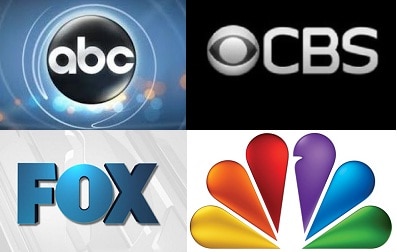 The networks were busy yesterday confirming pilot orders for the 2013-2014 season.  And while all of these shows might not end up on your television in the fall, here's what you need to know about the pilots that have been ordered by the big four networks.
ABC
Betrayal, created by ER's David Zabel, focuses on an unhappily married female photographer who begins an affair with a lawyer for a powerful family. But the lawyer is defending a murder suspect who is being prosecuted by her husband, nd soon their relationship and the case begin a spiraling series of betrayals.
Pulling, created by Office scribes Lee Eisenberg and Gene Stupnitsky, follows three dysfunctional women in their 30s living their lives the way they want, even if they're going against societal norms. 
The Returned, a drama from The Killing's Aaron Zelman, that asks the question, "What happens when the people you have mourned and buried suddenly appear on your doorstep as if not a day's gone by? The lives of the people of Aurora are forever changed when their deceased loved ones return."  In other words, it's the non-zombie zombie show.
Venice, a Romeo and Juliet-esque soap written by Without a Trace's Byron Balasco, focuses on two rival families living in "California's most seductive 'city'".
CBS
Beverly Hills Cop, created by The Shield's Shawn Ryan, which stars Brandon T. Jackson as Axel Foley's police officer son Aaron, who finds himself walking the Beverly Hills beat. Ryan will pen the pilot.
Backstrom, written and exec-produced by Hart Hanson, is based on the Swedish book series about an overweight, offensive, detective as he tries, and fails, to change his self-destructive behavior.
Friends With Better Lives, from Friends producer Dana Klein, revolves around a group of 30something friends who each think the other has it better.
Fox
Rake, created by Peter Duncan (who created the award-winning Australian series of the same name) and executive-produced by Peter Tolan (Rescue Me). It stars Greg Kinnear as Keegan Joye, a brilliant but self-destructive criminal defense lawyer.
Sleepy Hollow, written and exec-produced by Alex Kurtzman and Bob Orci, is a modern-day supernatural thriller based on the legend of the titular Westchester Country, N.Y. town.
Delirium, penned by Karyn Usher (Prison Break), is based on a bestselling trilogy about a world where love is deemed illegal and is able to be erased with a special procedure. But the teenage lead character, Lena Holoway, falls in love shortly before her procedure. 
The List, written by Daybreak creator Paul Zbyszewski and produced by Zombieland director Ruben Fleischer, involves members of the Federal Witness Security Program start getting killed and US Marshal Dan Shaker leads the hunt for the person who stole a file with the identities of every member of the program.
NBC
Untitled Sean Hayes Project,  from Victor Fresco (Better Off Ted), starsWill & Grace alum Sean Hayes as a father who has to navigate parenthood – his 14-year-old daughter has just moved in – and his temperamental new boss at work.
The Sixth Gun, penned by newcomer Ryan Condal and exec-produced by Lost's Carlton Cuse, Eric Gitter (Scott Pilgrim vs. the World) and Andy Borne, is supernatural western examining six mythical guns that each have their own otherworldly powers. It's based on the graphic novel of the same name.
Untitled Single-Camera Comedy, from DJ Nash (Bent) and Jason Bateman, centers on a son who idolizes his blind father and enjoys his mom's newfound adolescence after his folks divorce and ultimately grow closer.
Holding Patterns, from Office scribe Justin Spitzer, is a multi-cam ensemble about a group of friends whose lives are altered after surviving a plane crash.
The Blacklist, penned by Jon Bokenkamp (Perfect Stranger) and exec-produced by John Eisendrath (Alias), is a drama that follows the world's most wanted criminal who suddenly turns himself in and offers to give up anyone he's ever worked with. But here's the catch: he'll only work with a new FBI agent, one with whom he has no known connection.
Girlfriend in a Coma, from Peter Jankowski (Law & Order), Danielle Gelber (Chicago Fire) and based on a Douglas Coupland novel, is a single-cam comedy centering on a 34-year-old woman who wakes from a coma only to discover she has a 17-year-old daughter from a pregnancy she never knew about. Liz Brixius (Nurse Jackie) is producing and penning the pilot.
The Untitled Rand Ravich Projec, from Life's Ravich and Far Shariat, is a drama examining what happens when an unlikely puppeteer pulls Washington's elite — including the President of the United States — into an international conspiracy.