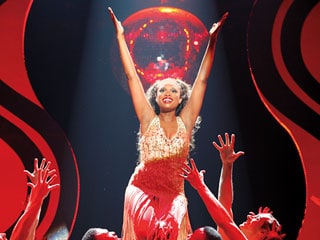 Somebody call an ambulance!  Smash has been shot.  Down. What was last year's surprise hit for NBC, is this years dodo bird.  Smash premiered down over 70% from its premiere last season despite adding Jennifer Hudson, coming in the lowest. Rated. Show. Of. The. Night.
The news is simply devastating for NBC, who tampered mercilessly with Smash's showrunner staff as well as the casting, therefore inviting full blame for the Smash Crash due to their meddling. Just in case you aren't reading my assessment of these numbers in the way I intend, here's the TLDR:  Smash is toast. A disaster.
Elsewhere everything was pretty much roses and ponies.  ABC's The Taste and The Bachelor each posted gains for the night.  NCIS and NCIS: LA on CBS… yeah they devoured their hours as always, Vegas did dip 16 percent.  FOX and The CW posted smallish gains for their shows, but I'm sure they aren't complaining.
 ADULT DEMO RANK
ADULTS 18-49 RATING
TOTAL VIEWERS (+000)
FOX
8:00P
RAISING HOPE
#7t
1.6
3,976
8:30P
RAISING HOPE
S
#9t
1.5
3,599
9:00P
NEW GIRL
#4
2.5
4,809
9:30P
MINDY PROJECT
#5
1.9
3,599
ABC
8-9P
TASTE
#6
1.8
5,282
9-11P
BACHELOR
S
#3
2.6
7,792
CBS
8-9P
NCIS
#1
3.7
21,487
9-10P
NCIS:LA
#2
3.1
16,570
10-11P
VEGAS
#7t
1.6
10,221
NBC
8-9P
BETTY WHITE
S
#9t
1.5
5,972
9-11P
SMASH
P
#11
1.1
4,468
CW
8-9P
HART-DIXIE
#12
0.6
1,436
9-10P
EMILY OWENS
#13
0.4
1,493