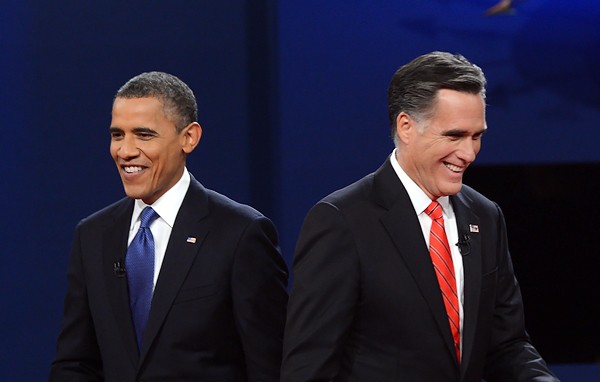 They may have very different political ideologies, but Mitt Romney and President Barack Obama both have impeccable taste in television.  You might be surprised to find out what you have in common with these guys.  Take the test and find out whose side you are on.
President Obama
While he's waiting for the exit polls and watching the Electral votes pile up, Obama might have a few re-runs of these shows on his iPad to help him pass the time.
Homeland –  Interestingly, Obama actually appears in the opening credits for this one.  Exposing the dark underbelly of the Intelligence/Politics interfacing, Homeland is an interesting choice for Obama.  Wonder what he would say about its authenticity.
Modern Family –  Seriously, who doesn't love this show.  Modern Family is quickly becoming this generations Brady Bunch, All in the Family, insert title for historic sitcom here.
Boardwalk Empire – So the prez is a sucker for a period piece, huh?  Well Boardwalk Empire is a lot more than just a period piece, I'm not sure what its themes of corruption and organized crime say about the POTUS though.
The Wire – Obama has a lot in common with a lot of TV fans on this one. The Wire is without a doubt one of the best shows ever to grace the television screens.
Parks and Recreation – I wonder how much of his early career the POTUS sees in Leslie Knope?
Mitt Romney
Right now Romney is hanging out about an hour down the road from me in Boston waiting for the polls to close.  The first couple of hours will mostly favor Romney due to the concentration of Red states.  If Romney is a bit bored, he might be watching a couple of these shows until the real contest begins around 9pm.
Justified – Awash with moral complexity,  Justified requires a very flexible perception of good and evil.  Romney is clearly a complex thinker if he favors Raylan Givens.
Modern Family – Hold the phone:  Mitt Romney and Barack Obama agree on something, and this isn't even a foreign policy debate.
NCIS – There is no question that NCIS is great show, but the reality of it is quite… well… soft.  let's hope if Romney is elected President he doesn't believe this procedural hooey is what it is all about.
Friday Night Lights – Since Romney famously appropriated the "Clear Eyes, Full Hearts, Can't Lose" as his campaign slogan towards the end, this choice makes a lot of sense.
30 Rock – This is extremely surprising since Republicans wind up on the butt end of a lot of the jokes on this series.  Wait, could this mean Mitt Romney is a secret Democrat?  Universal health care?  Pro-choice?  Shucking!
[polldaddy poll=6670091]