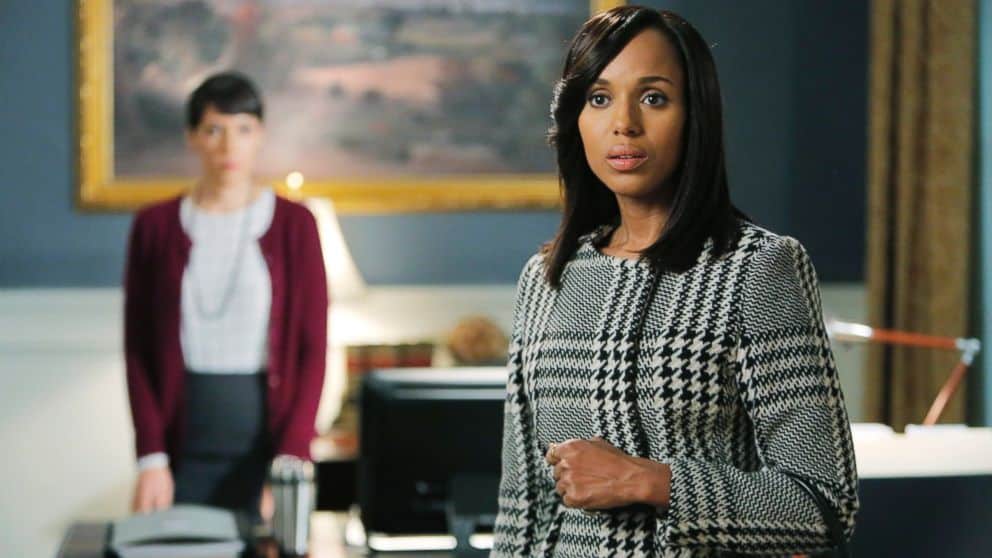 Thursday nights may never be the same without Scandal, but it doesn't mean that we have to say goodbye to the characters and actors we've grown to love during the last 7 years. It may mean that we'll have to find them doing different roles; that's certainly better than nothing. With the advent of the series finale coming sooner rather than later, we're already preparing ourselves by anticipating post-Scandal possibilities. Here are the Scandal actors whom we think will have the best post series careers after Scandal ends on April 19.
Bellamy Young
Young had a big role to fill being cast as the wife of former President Fitz, Mellie, and future President herself. Young exceeded expectations tremendously and she showed us that she could do well in the forefront and shine just as much in the background. Young had a small role in a blockbuster movie in 2018, A Wrinkle in Time, and she already has a TV movie in pre-production called False Profits. We're thinking she might try to go the movie route post Scandal, and we believe she should.
Guillermo Diaz
Huck was hands down one of our favorite characters in the series. Diaz brought such a complexity to the character that no other actor would've been able to bring. Diaz is no newbie in the game, and we believe that he'll try to cross his career over to film—something that we can picture completely. Diaz already has a movie coming out this year, Warning Shot, with David Spade and James Earl Jones, and he also has another film already in pre-production status, All The Little Things We Kill.
Darby Stanchfield
Aside from playing the first wife role of beloved TV character NCIS' Jethro Gibbs, Abby Whelan is Stanchfield's biggest role yet. However, the future is looking bright for this talented young actress. She currently has 2 films in post-production, Medicine Men and The Clinic; she also has another in pre-production, Justine. It might be a good route for the actress to take now that she's more recognizable than ever—thanks to Scandal.
Jeff Perry
Easily the veteran of the series, Perry is not stopping with his career anytime soon—not even with the end of one of his biggest roles to date in Scandal, Cyrus Beene. As a matter of fact, Perry is already filming a new TV series called $1, and it look like we'll be seeing him just as much as we have in the last 7 years. Perry also has a film in post-production currently, Trial by Fire.
Scott Foley
We've seen Foley embrace the screen post-Felicity back in 2002, and he's done really well for himself over the years as lead starring or guesting in a few hit shows such as Scrubs, The Unit, Cougar Town, Grey's Anatomy, True Blood, and of course, Scandal. We'd like to see Foley on the big screen, to tell you the truth, but if TV is his game, we'd love to watch him there either way. Foley is currently in pre-production with an upcoming TV movie, Whisky Cavalier, and we're sure there'll be more.
Kerry Washington
Although she doesn't have any projects officially lined up yet, we're sure that Washington will not be short on opportunities after she leaves Scandal. She might go back to doing films; she might stay on TV where she's done admirably well for herself. Either way, this spot is a given to Washington because no one could've pulled off Olivia Pope like she did. We can't wait to find out what she's got up her sleeves next, and we'll be there waiting when she announces her next move.