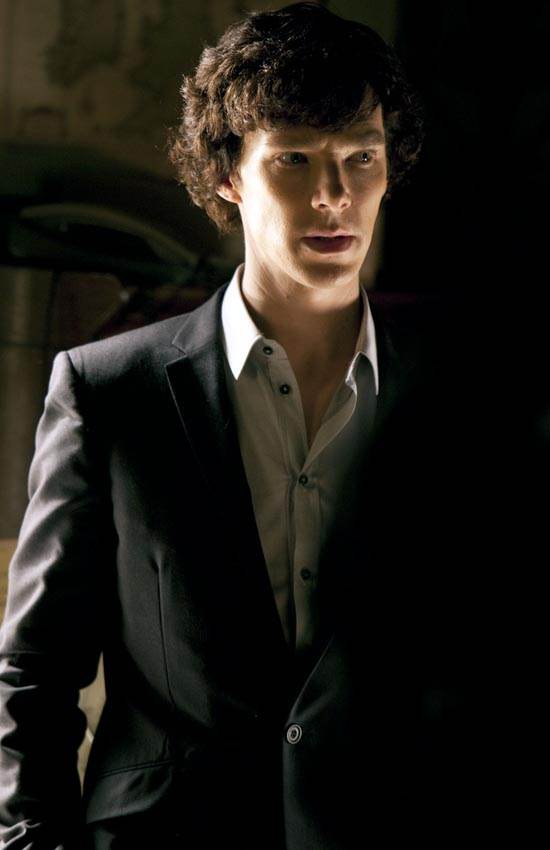 The new season of Sherlock might not be coming to our screens this year; however the folks over at the BBC are kind enough to give us a glimpse at season 2 in a new promo. Showcasing their programming for the coming months the BBC includes some clips from the new season of Sherlock which you can see below (the brief glimpse of a dinosaur at the end of the promo is from another BBC show, Planet Dinosaur).
The main clip comes from the second episode "The Hounds of Baskerville," an adaptation of one of the most famous Sherlock Holmes stories; The Hound of the Baskervilles. In this sneak peek we see Russell Tovey (Being Human) as Henry Baskerville being dismissed by Holmes (Benedict Cumberbatch). Holmes appears to not see anything significant in the case, telling Baskerville that the footprints "could be anything, therefore nothing." Though we later see Holmes and Watson (Martin Freeman) investigating in the dark, so something must entice Holmes towards this case.
Holmes also declares that he "Wouldn't miss this for the world," a sentiment that I'm sure is shared by fans (myself included) of the show who are anticipating the return of Sherlock to the small screen.
It has been a good week for those involved with Sherlock as it picked up yet another award, this time for best terrestrial series at the Edinburgh television festival. These awards also honoured The Inbetweeners for best digital programme of the year and ITV (the channel that makes Downton Abbey) picked up the terrestrial channel of the year.
Season 2 of Sherlock will air in early 2012 on the BBC and in May 2012 on PBS.
You can catch Benedict Cumberbatch in the big screen adaptation of Tinker, Tailor, Soldier, Spy, from September 16 in the UK and in the US from December 9.
For more information on season 2 be sure to check out our Sherlock page.