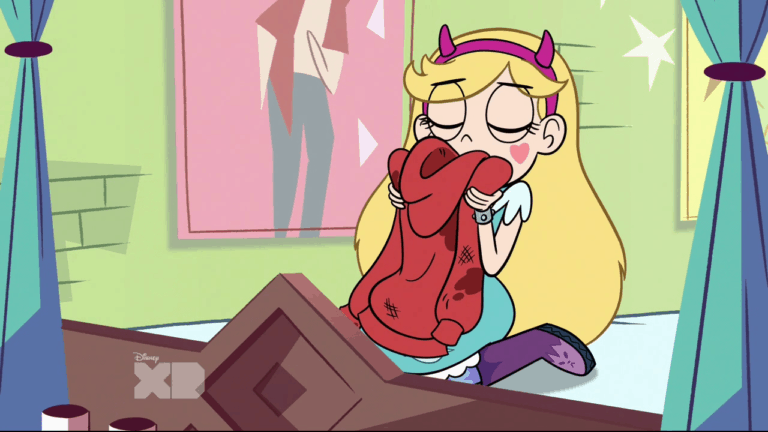 Way back in July, Disney XD kicked off the third season premier of Star Vs. The Forces of Evil with a TV-movie event entitled "Battle for Mewni." In it, Star and Marco fought against Ludo's reign and Toffee's dark magic to restore peace to Mewni. About four months later, we're finally getting more new episodes of Star, check out our review of the latest episodes!
Scent of a Hoodie
The first half of season three's fifth episode takes place a little while after the battle of Mewni. We open with Marco packing up to head back home, and Star must stay in Mewni. It's a sad goodbye, and it's pretty obvious that Star doesn't want Marco to leave. But, after a long, tearful hug and an awkward shuffle, Marco goes back to his own dimension, though, not before asking if Star knows where his signature red hoodie went. Star claims to know nothing about it, and Marco heads home.
But, of course, Star has kept Marco's hoodie, which she embraces and associates the somewhat putrid smells with memories of her and Marco's various adventures. If she has to settle back into the princess life, she'll at least have the hoodie to remember her time on Earth by.
Well, that is until Princess Ponyhead shows up. Trying to get Star less "messed up" about Marco, Ponyhead tosses the hoodie into the laundry shoot, sparking a quest to the royal laundry room, run by Lavabo, the Knight of the Wash. Lavabo's strict adherence to the rules brings us o the main conflict of the episode, he is obliged to clean the filthy hoodie, but Star doesn't want Marco's scent to wash out, thus ensuing a chase and fight between Star, Ponyhead and the Knight of the wash.
At the end of the day, Star learns that she doesn't need an object to remember Marco, that they're still friends and she still has the memories of their time together. The episode ends with Marco getting his hoodie back, finding it smells like Star.
Overall, "Scent of a Hoodie" is a great return for the series after a four month hiatus, despite a few bumps. The main question that looms is why does the goodbye between Star and Marco feel so final? Star has to help clean up Mewni, so we know why she has to say, and Marco must return to his Earth life, and girlfriend Jackie. We can of course assume that the two will reunite over the course of the season, but Marco has his dimensional scissors, so what's stopping them from hanging out whenever he feels like it?
This question isn't too much of a hinderance on the episode, which is has a lot of genuinely funny moments for both young and old viewers, and it's a great way to follow up the dramatic action of "Battle for Mewni." We get the classic "slice of strange life" that we've come to love about Star Vs. the Forces of Evil. A mundane issue is escalated with magic and real emotional issues, an excellent return to form for the series.
Rest in Pudding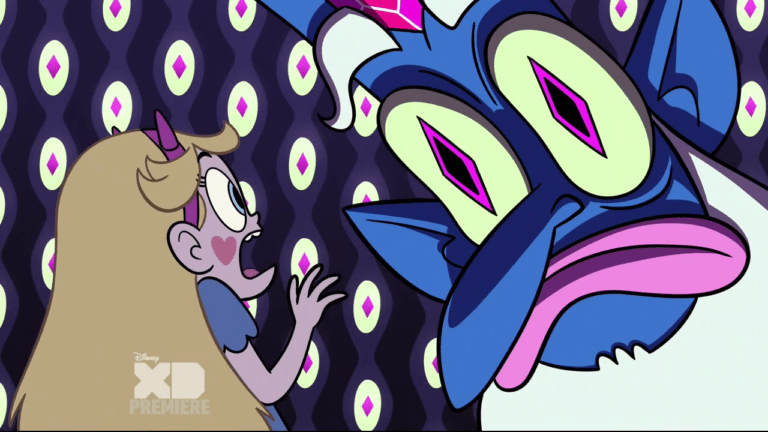 In another familiar move for Star Vs. The Forces of Evil, we have a gear change, from slice of life to a real and present issue. "Rest in Pudding," despite its comedic title, deals with grief in a rather interesting way. We start with the memorial for magical chancellor Lekmet, who used up all his magic power and passed in the Battle of Mewni. But, it is not Lekmet that Star is grieving, it's Glossaryck.
After losing Glossaryck, Star is seeing visions of the magical guide wherever there is a reflection. She believes that Glossaryck is trapped somewhere, that she's not seeing a ghost or a hallucination. After making a scene at the funeral, Queen Butterfly tells her daughter that Glossaryck is gone and that she must let him go.
But Star cannot, and Glossaryck continues to haunt her. So much so that she calls Janna, known for her spooky hobbies and interest in the supernatural. Janna tells Star that Glossaryck might have unfinished business, something keeping him anchored to this life, pieces of the spell book that remained after it was burned. She tells Star to bury the book and she does just that, bringing it to the Mewni Sanctuary. But, the burial doesn't work, and this ends up being a strong metaphor for grief.
That is to say, Star cannot bury her feelings and problems. She is scared without Glossaryck, unsure of how to proceed, missing his guidance and support in tough times such as this. Talking out these feelings of grief help her realize she has to let Glossaryck go like her mother said, and just like that, this realization causes the visions to end. However, soon after, the sanctuary bursts to life and something happens. Glossaryck has been restored by the sanctuary, and perhaps even Star's magic.
This episode is another great one to return on, however it has a few issues. If Earth-based friends like Janna are just a call away, why was the farewell with Marco in the previous episode — technically the same episode as this one — so seemingly permanent? Further, Star feels she needs Glossaryck's guidance in rebuilding the kingdom of Mewni, but there doesn't seem to be much disarray shown in these past two episodes. And if this was the reason Star couldn't go back to Earth, then what's stopping her from visiting?
But, we might be getting ahead of ourselves, these episodes are just the beginning, and there's still plenty more to come in the next two weeks. Otherwise, "Rest In Pudding" is a great episode, creatively handling grief in a smart way that is easy to understand for younger viewers, but still deep and relatable for older viewers.
Hopefully, our questions will be soon be answered in the upcoming episodes. Season three of Star Vs. The Forces of Evil looks to be an exciting season, so keep an eye out for more reviews of the Disney XD show!