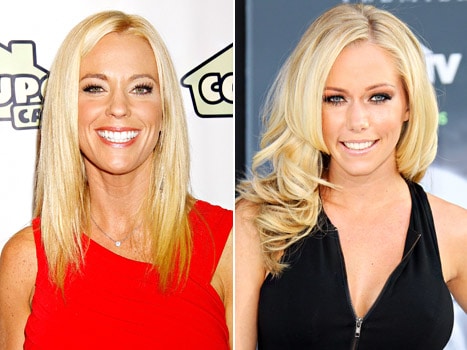 If you've been anxiously awaiting the return of Kate Gosselin to your TV screen, and honestly who hasn't, rejoice.  The reality diva who gives birth a litter at a time has signed on for an episode of Celebrity Wife Swap, the lucky and brave soul taking on Gosselin's life is none other than Kendra Wilkinson.
ABC announced this week that Gosselin, 37, and Wilkinson, 27, will be the first celebs to kick off the new season of Celebrity Wife swap, which premieres February 26th.  In the series, stars literally trade lives, and all of the responsibilities that go along with them, for one week during which they are, naturally, followed around by a camera crew for our pleasure.
In the premiere Gosselin will get a bit of a vacation for sure, joining Wilkinson's husband, former NFL wide receiver Hank Baskett, and their one son Hank, 3, while Kendra gets to experience single mother hood of eight children including the twins Cara and Mady, 12, and the sextuplets that forged Gosselin's reality career Aaeden, Collin, Joel, Leah, Alexis and Hannah, all 8.  Will ex-husband Jon Gosselin make an appearance? We can only hope.
The episode will premiere  Feb. 26 on ABC at 8:00 p.m. EST.