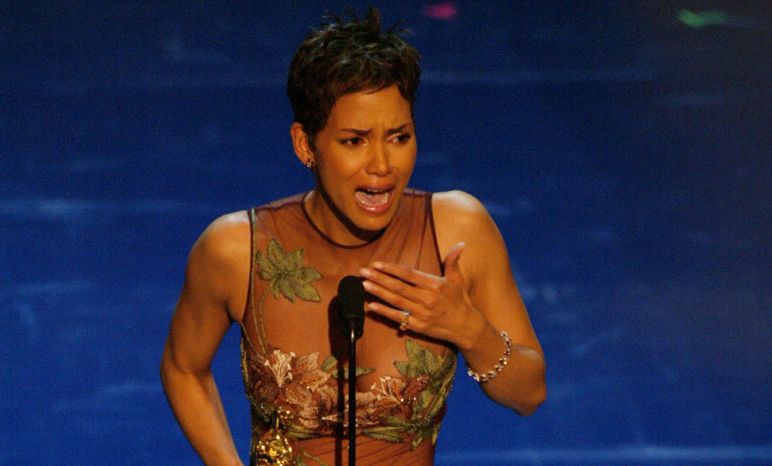 The Oscars will be full of great moments and plenty of surprises but I'm not sure we're going to get too many "it's about time" moments this year.  There aren't that many nominees who you're thinking to yourselves "will they finally win an Oscar this year?"  There are also not too many categories this year where you can say "maybe it's about time that this movie or this actor wins."
The one story I've been hearing about is that Deadpool should have been nominated for best picture.  So perhaps one day we'll have an "it's about time" moment where we can say "it's about time a comic book movie won best picture."  Until then I decided to pick out five of my favorite moments in Oscars where it felt like the awards were given way too late.
Here are my top five "It's about time" moments in Oscars history.
Halle Berry Wins Best Actress
She won an Academy Award for Best Actress in 2002 for her performance in the romantic drama Monster's Ball (2001), which made her the only black woman to win a Best Actress Academy Award to date, as of 2017.
Leonardo DiCaprio wins Best Actor
It felt like an eternity for Leonardo DiCaprio who eventually won his first best actor award for The Revenant. It feels like he could have won at least 5 more times but the Academy really made him sweat it out. Looks like his speech was a long time coming.
Randy Newman wins best song in a Movie
Guys like Hans Zimmer and John Williams always get so much acclaim but Randy Newman had been around just as long as those guys, scored a ton of movies, wrote a ton of original music for movies, got nominated a bunch of times, and never won. When he finally won for Monster's Inc it was about time.
Martin Scorsese wins best director
That he didn't win for Goodfellas is still beyond comprehension. That he did win for The Departed makes little sense considering how many fine films he's directed. But that Martin Scorsese didn't win best director until 2007 is a crime.
Katheryn Bigelow wins best director
In 2010 she wins best director for The Hurt Locker. Hard to believe a woman NEVER won best director before that. That's too long a wait.
*Sidney Poitier also deserves a spot on this list for being the first African American actor to win best picture but because his win was in 1964 it wasn't nearly as long a wait as Halle Berry.  And Denzel Washington might become the most decorated male Oscar winner this year so that's pretty awesome.