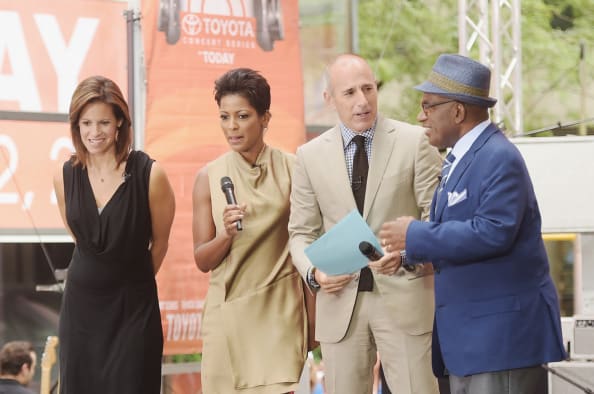 Matt Lauer, formerly of NBC's "Today Show" has just recently been fired for allegations of sexual misconduct. New information is just beginning to surface about the rapid action that was taken by executives of the network. Matt has been co-host of the show for more than 20 years and the news took many viewers and colleagues by surprise. With the rash of sexual harrasment suits arising out of Hollywood and the media, it's unclear what direction this case will take. We've put together the top five Matt Lauer moments in TV history to show you a few creepy moments, but also some of the very good times we've shared with the former co-host.
Anne Hathaway interview with Matt Lauer
In this interview, Hathaway joins Matt Lauer to discuss her role in "Les Miserables," but that's not what he had in mind. It's a shame that instead of talking about the topic, he brings up a very embarrassing moment she recently experienced. Anne's dress had blown upwards and a photographer was crass enough to take a picture of her in a very vulnerable moment. She was publicly humiliated. After Lauer brought it up and pushed the topic, she was very classy about explaining her feelings about the lack of decency in the photogs behaviors and that it was an "unfortunate" event. She expertly redirected Lauer to move to the subject she was slated to cover Hathaway did it in a way that showed class and style, and it made Lauer look like nothing short of an inconsiderate creep.
Ellen DeGeneres scares Matt Lauer in prank
Matt appeared on the "Ellen Show" as a guest and the two carried on a very nice interview. Everything was going very well until a woman jumped out of a piece of furniture that was really only a prop that Ellen had set up to give Matt the scare of his life. The obviously frightened Lauer jumped to his feet, yelled and moved out of the way. He had to walk around for a few minutes to get a grip, but returned with a pleasant smile on his face. He accused Ellen of being childish and petty, but Matt was smiling the entire time. Aside from the joking comments, he took the prank good naturedly and in stride.
Matt gets his revenge on Ellen for the prank
Matt Lauer promised Ellen that he'd pay her back for the prank. She's famous for pranking anyone that she can and Lauer wasn't the only one she got the best of on the "Today Show." The group came up with a good plan to give Ellen a taste of her own medicine and this is what happened. They filled the inside of her car with 20,000 ping pong balls and replaced the license plates with plates that read "Lotta balls." Ellen was officially paid back when she finished taping and went to the lot to get into her car. As the balls poured out of her car, she yelled, "I"ll get you Matt Lauer…Damn you Matt Lauer."
Tom Cruise gets heated with Matt Lauer
Tom's interview with Matt Lauer is going very well until they begin discussing the topics of children, ritalin and depression. We see Cruise's mood do an about face as he becomes passionate and aggressive. He really gets upset when the two are discussing the practice of psychiatry, which is something he doesn't believe in at all. As he discusses his feud with Brooke Shields, his mood remains dark.
Recreating Tom Cruise
Matt's recreation of the Tom Cruise incident on his show is absolutely hilarious. He dons a wig and does an amazing job in recreating the interview in parody fashion. This clip is a must see.