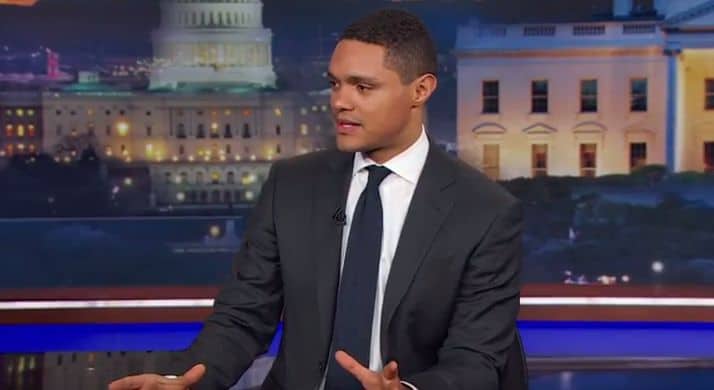 Trevor Noah, a South-African comedian, actor, writer, producer, television host, and political commentator is probably best known for hosting a show on Comedy Central called The Daily Show. He's been hosting it since September 2015 and he's not afraid of saying exactly what he thinks. That's why Noah told Fox News to "Shut up and dribble" for not addressing gun control.
This past Tuesday night, Noah ridiculed Fox News and their Parkland shooting coverage, or lack thereof. He said if you told someone to solve gun violence without being able to talk about guns, most people would say there's nothing that could be done, but not Fox New. He says all Fox has showed us is that once the obvious solution has been removed, there's nothing left but to do but make up creative choices which obviously won't work.
Noah first mocked Judge Jeanine Pirro's suggestion of installing metal detectors, staking cops out on school grounds, and maintaining perimeter controls. Noah wanted to know if the judge was still talking about schools, because to him it sounded as if she was talking about building a compound reminiscent of those in the apocalyptic zombie show "The Walking Dead."
Noah went on to blast Judge Andrew Napolitano and Next Gingrich for suggesting teachers should carry guns on their person. He said these ideas were completely absurd and that it must be fun living in their world, one that's free of embarrassment, where no idea is too ridiculous and all ideas can be heard equally.
The Daily Show host also slammed Greg Gutfeld for his suggestion that self-defense classes should be offered to students which should include teaching them hand-to-hand combat. Noah reacted to that by asking if Gutfeld understood what a gun was. Additionally, he stated the fact that it can only be considered hand-to-hand combat when both combatants agree to only use their hands. He went on to explain that hand-to-hand combat only works when the other person either isn't armed at all or is only armed with a wooden board. He ended this specific argument by quipping sarcastically that all of these ideas were just priceless, shaking his head, and rolling his eyes.
Before ending the subject, Noah added that Fox News couldn't be blamed for coming up with such ridiculous ideas because it's not their job or responsibility to solve any problems, no matter what they are. In his opinion, Fox New needed to "shut up and dribble," he scoffed, clearly referencing Fox News' contributor Laura Ingraham's attack on LeBron James and his criticizing of President Trump.
Laura Ingraham wrote a book back in 2003 in which she criticized celebrities, such as the Dixie Chicks and Barbara Streisand for their ridiculing of then President George W. Bush. Since then, she has use variations of the title, "Shut Up & Sing", replacing the word "sing", and chiding performers who try to sound off about politics. The latest of these variations was used to mock James, basically alluding to the fact he left high school for the NBA and saying he wasn't educated enough to have a political opinion. Therefore, in her opinion, he should just "shut up and dribble."
Noah turned to term around on Ingraham and Fox News, chiding them to stick to what they do, which is reporting the news, not making suggestions and/or solving problems.