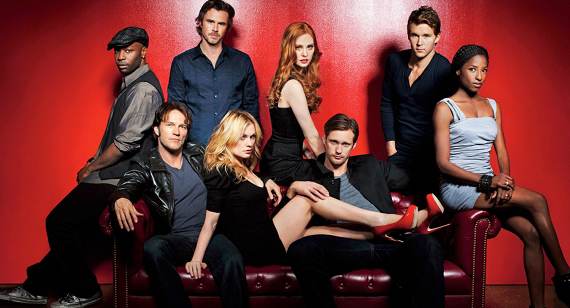 "I am wearing a Wal-Mart sweatsuit for y'all. If that's not demonstration of team spirit, I don't know what is!" – Pam
Ten months. That's how long I've been waiting to get back to Bon Temps and damn am I happy to be there! For some it's bbqs and the beach that symbolize summertime, but for me it's simply Bon Temps and the residents on True Blood.
I would've loved this episode just for the sight of Pam away in that yellow sweatsuit. It's safe to say that our favorite progenies were on fire tonight! Picking up quite literally where we left off with Eric putting his best housekeeping skills to use to clean up Nan and her "gay stormtroopers," the show didn't miss a beat in bringing its audience up to date.
No sooner did Sookie scream while holding Tara's bleeding body, then we saw Lafayette run downstairs and Bill feel her fear. I have to say, Eric's reaction was pretty immature but standard Eric. I guess nobody rejects Eric Northman… His bitterness towards Sookie didn't last long as it wasn't even a whole day before he was sexing up his "sister" Nora in an abandoned locker unit. By sister I mean another one of Godric's progenies.
It'll be good to meet some of the new vampires and werewolves this season, but sometimes it just seems like so much is happening it's hard to keep track. For instance, as adorable as Scott Foley is, I can't really say that I care too much about Terry's storyline. Also I really never need to see a post coital Andy Bellefleur again. Speaking of, what ever happened with that fairy he had sex with in the woods?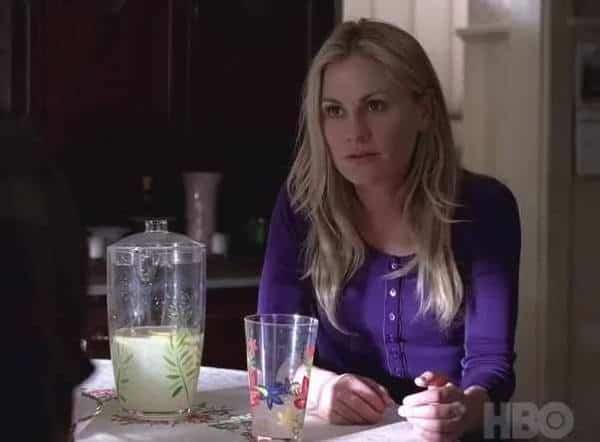 Another random storyline was the return of Steve Newlin. His revelation as a gay American vampire was kind of not surprising at all. I love how Jessica's barged in and declared "Jason is mine!" She was so bad ass stepping in for Bill when Newlin was asking "who the f*ck are you?" Jessica is the girl who is going to change Jason, because she is the one girl who doesn't need his attention and doesn't want more. I look forward to more between these two.
For those who thought the vampires were dark, well damn, if it's possible the werewolves have one upped them. Watching Marcus's mother literally eat his dead body stimulated my gag reflex. Sam really manned up in order to protect Luna and Emma, but I'm glad Alcide came to his rescue. I know Lafayette was insistent upon tossing Alcide on his furry behind, but I don't think Alcide is a bad guy at all. In fact I predict he will become Sookie's love interest at some point this season.
Any other predictions? Did you guys love the premiere or were you underwhelmed? I'm sure I glossed over a few things but too much went down in one hour, it was hard to keep track! All I can say is that is I'm looking forward to next week and Tara's reaction to her new life as a bloodsucker. As if Sookie and Lafayette don't already have enough problems…