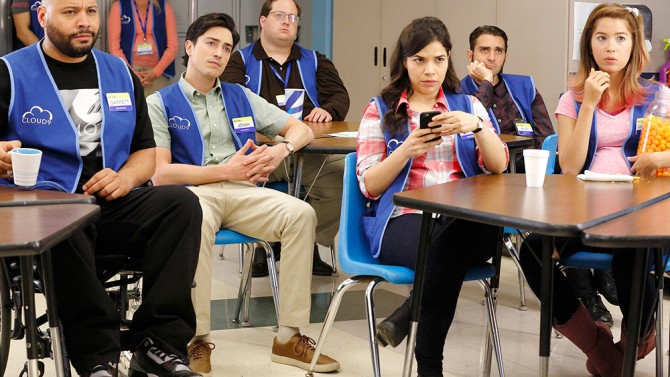 Here at TVOvermind, we watch a lot of TV. You'd think that was an obvious statement. However, since not every show can have the social media presence of The Bachelor, we wanted to talk about some shows not getting as much attention. First up, NBC's quirky, hilarious workplace comedy Superstore.
If you haven't heard of the series until now, here's the gist: It's a workplace comedy like The Office, or Parks and Recreation, but set in a big-box retail store like Wal-Mart. Simple enough, right?
Now, based on ratings data, I wouldn't even necessarily classify Superstore as "under the radar". Last night's new episode rated a respectable 1.6 in the 18-49 demo, and drew in 5.6 million total viewers. In today's TV landscape, that's more than enough to warrant a renewal. Hopefully it can continue its upward ratings climb. Why, you ask?
Because it is hilarious!! Now, perhaps my background in retail gives me some bias, but I think you'll find that most of last night's 5.6 million viewers can relate to this material. If you've ever worked in retail like me, you know that you come home almost every day with some sort of crazy workplace story. Now imagine those stories in television format. Getting excited yet? You should be, because Superstore handles the retail workplace masterfully, perfectly capturing the essence of working in a big-box store (take it from someone who knows!). The comedy is top notch, and also a little sad when you realize it could be (and likely is, somewhere) real.
The cast is top-notch. Led by America Ferrera (Ugly Betty)  and Ben Feldman (Mad Men), they have the right balance between familiar names and relative unknowns. Amy (Ferrera) is a mysterious floor supervisor who refuses to use the correct name tag. Jonah (Feldman), equally as mysterious, shows up in the pilot episode, and no one can figure out why he's working there. Combined with an over enthusiastic manager, a wheelchair bound clerk, a pregnant, teenage cashier a new employee hell bent on climbing the ranks, and a way too tough supervisor, this ensemble has all the makings of a fresh, fun comedy.
Alright, alright. I'll get to the point. Why should you watch it? As previously stated, 1.) It's funny, and 2.) It has a great ensemble cast. I would think that would be enough, but I'll press on to make sure you get the picture. Comedies work best when they have deeper elements to them. Sure, funny is a big eyeball getter, but complex characters always win the day. Amy and Jonah have enough complexity about them to carry a show, but each character has the spark and depth to make this one of the most compelling comedies on television. Also, I think it's important to have retail workers as sympathetic characters. Despite what cartoon-ish, gum chewing caricatures in other comedies might tell you, retail workers are people with stories, too.
I don't know what you're doing Monday nights, but hopefully you'll make a little room in your viewing schedule for Superstore. This underdog comedy has everything it takes to succeed. It might be "under the radar" by The Bachelor standards, but this strong comedy has everything you need or want in a comedy. It's smart, well written, and relatable, and I'm not sure how much more I could ask.
So set your "radar" for Mondays at 8/7c on NBC, and enjoy Superstore.