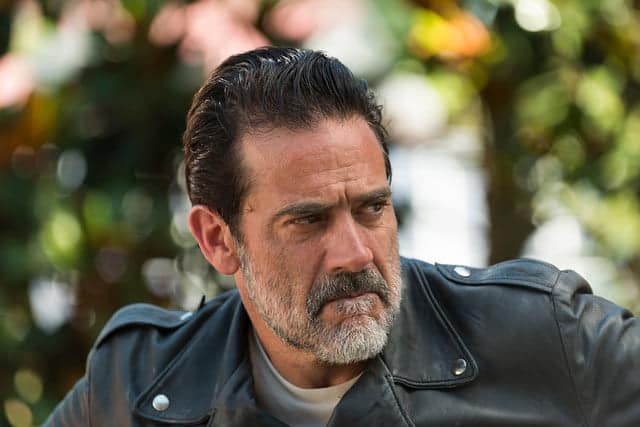 Ever wondered how Negan came to be the bat-wielding Savior leader that he is? Everyone in The Walking Dead has a past, a pre-zombie apocalypse past, and not all the characters get a chance to retell the story of his or her past. The Walking Dead has been around since 2010, and there's probably no other character that gets to us like Negan does. Actor Jeffrey Dean Morgan apparently shares our sentiment as he discusses during an interview his vision for a Negan spinoff.
The story already exists. Back in 2016, TWD creator Robert Kirkman wrote and created a backstory to Negan, one that explores the character before the zombie apocalypse began. Here's Negan, a stand-alone volume that extended across a total of 16 issues. Each issue was a chapter of Negan's life that showed his life with his wife, the beginning of the zombie apocalypse from his view, and up to the beginnings of his life with the Saviors.
Morgan said that he'd love to be a part of Kirkman's vision, and that he'd love to take part in its filming. Morgan has been highly instrumental in the character's success on screen, and he's done an excellent job in translating the character's personality and nuisances from the comic book and onto television. Morgan feels that with a Negan spinoff, it'll be important to explain his character properly—something that he'd be able to pull off because of his obvious existing connection to the character already.
We've seen a slight glimpse into Negan's old life before in season 8 of The Walking Dead. We found out a little bit about Negan's wife, whose name happens to be the same as that of Negan's prized barbed baseball bat. Negan was defeated by the end of that season, becoming a prisoner of Grimes and Alexandria, but we know that there's a future left in Negan's story.
Even with a spinoff that will detail his past life, we'll probably see more about Negan's past on The Walking Dead itself. Morgan believes that it'll be important not only for the character but for the development of the show itself. This might be pointing to the fact that Negan's character is probably going to have a larger effect on the show's direction at some point in the future.
Kirkman's Here's Negan is an amazing view into Negan. The volume also details how Negan met Dwight, one of the Saviors inductees that turned good guy on the group. It chronicles Negan's rise to the top of the group.
It's an amazing thought that one day we might see Negan on his own story. Chief Content Officer for TWD, Scott Gimple, stated that he's planning a few spinoffs to expand on stories and characters and further expand the brand of TWD in general. We'll probably see a good mix of stories, especially since TWD is full of interesting people to begin with. This could also be the path that would eventually lead to the series' first spinoff movie. It's all exciting stuff, and it's a great direction for the popular show to take.