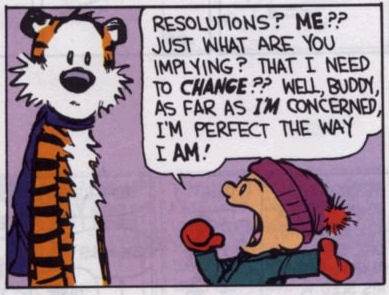 We're now about a week into the second half of the 2010-11 TV season. A few new shows have already premiered, a bachelor has gotten slapped, and there's been more snow than I would particularly care for. While I have a few general resolutions that I'm applying to my life away from the computer (if there is such a thing), there are a few things I'd like to do to better my year in TV.
1. Give more shows a second chance
One of my main problems is that when I drop a show, it's permanently dropped and I never really go back to it. In 2011, I'd like to revisit a few of the shows that I've left behind to see where things are and if there have been enough improvements for me to be able to stick around this time.
For example, in the past couple of months I've dropped both Sons of Anarchy and The Big C. I thought the FX motorcycle drama had a bafflingly bad first half of the third season that I just had to stop, even though I championed it to multiple people based on how strong its prior two seasons were. I kept up with the reviews of the show, which continued to be poor, until the finale, which by all accounts was the best episode of the season. If season four comes out of the gate strong and maintains that quality, I'd be more than happy to jump right in.
The Showtime dramedy started off fairly well, but eventually fell into the trappings of the most mediocre of chick flicks with its cockamamie carpe diem cliches. Laura Linney was insufferable, the supporting cast was cartoon-ish at best, and the writing wasn't dark enough or funny enough to keep me interested. However, once Linney revealed her diagnosis to her family, things apparently changed, at least if word of mouth is to be believed. This could either be a godsend to the show and push it in places that it should have been since the second episode or it could be too little too late, but it's a show I'll be paying close attention to (at least review-wise) to see if I can't join in.
Other Shows Ripe for a Second Chance: Breaking Bad (I know it's probably shameful to admit, but I got bored), White Collar (same thing), The Wire (it would be my 3rd or 4th time trying to make it through the show — the furthest I've gone is around episode 10 of season 1)
2. Try to find at least one good show on every network
I admit I'm a snob. There are certain channels that shall remain nameless that I refuse to watch a show on. It's not that I think the shows are beneath my intelligence or that the channel only produces bad shows; there's just not a whole lot there to actually appeal to me, y'know? In 2011, I will do my best to find at least one show per major channel to watch and invest in; I don't think I'll suddenly become a huge fan of every channel on TV or anything, but sometimes I feel like I'm missing out when my TV schedule is missing so many channels that are important in the TV landscape right now. I've already done a little digging to see if there's anything I can start soon and I've added a few shows to my list, but it'll be more of a gradual process.
My Most Watched Networks: FX, Showtime, ABC, HBO
3. Marathon good shows/make a dent in my show list
I currently have a list of shows, both old and new, that I'd like to marathon and get through this year. It's hideously long, so I sincerely doubt I'll watch everything, but I'd like to at least be able to get it down to a manageable number for 2012. I mean, if the world ends, you might as well have watched a whole lot of good TV in the process, right? But seriously, my list is a mix of pretty much everything you can think of: forgotten sitcoms, one season failures, classic teen dramas, controversial sports shows, campy vanity projects, and everything in between. I have a list of a few shows that are currently on television that I'm waiting on to finish before I marathon, either because there are too many DVDs to make it through or the show itself has been on for too long to be able to watch and catch up, but I'll at least have a few things for when I make a dent in my Netflix queue.
5 Sample Shows I'd Like to Make It Through: Deadwood, Carnivale, Life, The Shield, Sports Night
4. Continue shedding shows
I know this piece has already been quite kumbaya, but here's where we get a little dark. I watch a whole lot of TV. I plan events around it, I love having something to look forward to every evening, and I don't plan on changing it anytime soon. But to be able to be a functioning adult in 2011, I have to have a little more breathing room. I'm open to trying new shows, but every show has to be on a slightly shorter leash this year, especially if I hope to make it through a decent portion of my show list. I generally gave shows about 6-7 episodes in order to make an impression on me, but I think this year it'll have to be reduced to 3-4. I know, I know, there are plenty of shows that have had rough starts but eventually righted the ship given some time, but just look at resolution #1. I'm willing to give shows second chance, but I really don't want to waste my time waiting for things to turn around.
Currently on the Chopping Block: Community (it got so much better in the 4-5 episodes before the hiatus, so it's good for now), True Blood (season three was bad and season four looks as bloated and nonsensical), The Big Bang Theory (they ended fall on a perfect note, but their return was atrocious)
5. Watch at least one episode of everything Emmy nominated, so I can judge
Whenever awards season rolls around, I'm always a little upset because the stuff that I watch is generally outright ignored. There have been a few great surprises here recently, but in an average category of 6 nominees, I will usually be a fan of 1-2 nominees and apathetic or openly rooting against the other four. This year, once the nominees are announced, I will watch the nominated episodes of each major category in order to give me a sense of who should really win. Too often, there are WTF-type wins, at least to me, that could have been avoided if I saw the context by which they received the award. I'll still more than likely be a little ticked off that the shows I actually watch/am invested in didn't win and it may even incense me that much more, but at least I'll have a fuller understanding of WTF the voting committee was actually thinking this time around.
Shows Nominated Last Year that I Actually Watch: Dexter, Lost, Friday Night Lights, Nurse Jackie, Damages, The Big Bang Theory
Do you have any TV resolutions in 2011?