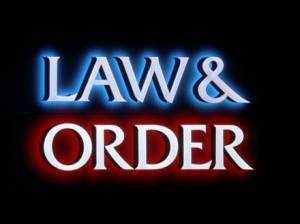 What happened to the TV theme? Or the entire opening credits, for that matter?
More and more, television shows are doing away with opening titles in favor of putting credits over first acts and getting right to the action. When Sports Night did that in 1998, I thought it was novel. Now, however, it seems to be the rule and not the exception – and those catchy TV themes that used to stick in my head seem to be falling by the wayside. It bothered me, so it was something I discussed with composer Bear McCreary in our interview, and then I saw the new Law & Order get rid of its iconic theme and wondered, "What's become of TV themes?"
Allow me to share with you (in no particular order) six of my favorite TV themes. By that, I mean original themes recorded specifically for a TV series. Not pop songs from musical artists that were used as themes, but actual, original themes. There have been a lot of great ones, and I couldn't possibly include all the ones I love. Here, however, are a half-dozen, complete with YouTube links so you can hear them for yourselves.
It's Garry Shandling's Show (1986-1989)
Performed by Bill Lynch; written by Joey Carbone, Garry Shandling and Alan Zweibel
This song still gets stuck in my head at completely random intervals, because it's completely hilarious. The theme song to Garry Shandling's first series pokes at that show's tendency to break the fourth wall by in itself being conscious of its use: "This is the theme to Garry's show/Garry called me up and asked if I would write his theme song…" It's also catchy. My family hates this show, and yet, they love this theme song. (Link: YouTube)
The Equalizer (1985-1989)
Composed by Stewart Copeland
The Equalizer is forever going to be an indelible part of my childhood (yes, I'm aware that I just dated myself) and the opening sequence to the Edward Woodward actioner still gets me all excited. The theme is the right mix of menacing and yet hopeful, and the editing of the opening works perfectly with it. Now if only we could get more than the first season released on DVD! (Link: YouTube)
Chicago Hope (1994-2000)
Composed by Mark Isham
The music for Chicago Hope is probably my favorite TV soundtrack ever. It was released on CD in the mid-90's and I took the CD with me everywhere; I used to put it on when I was writing or when I just needed to relax a bit. Mark Isham composed a beautiful score that wasn't just a great score, but also able to be listened to as stand-alone music. Still, nothing got my blood pumping more than the (second) main title theme, which I actually used to listen to while trying to perform difficult science labs in high school. I'm not sure if it worked, but it made me feel cooler. (Link: YouTube)
Human Target (2010-)
Composed by Bear McCreary
This one always makes me laugh, because at first, I wasn't very fond of it. I actually went, "Are you kidding me?" But as the show went on, I grew to embrace it and how it perfectly represented the series' throwback-action feel. I started playing it for no reason. Then I found out Mark Valley had it as the ringtone on his iPhone; also cool. Then it got stuck in my head for a whole day and wouldn't leave. There's a reason this theme was nominated for an Emmy Award. Unfortunately, with the composer change, the theme's been done away with; luckily, Bear McCreary will be providing us with a soundtrack release in October. When it comes out, I fully plan to play this blasting out of my car speakers on the way to work. (Link: YouTube)
In The Heat of the Night (1988-1995)
Performed by Bill Champlin
This was another show that I watched growing up, and another theme song that keeps popping up in my consciousness now and then. (That's not surprising – it was also recorded by the legendary Quincy Jones.) When I studied the original Sidney Poitier film in high school, everyone was looking at me funny as I started singing this theme to the Carroll O'Connor TV version under my breath. No one else got it, but I still remember all the lyrics to this day. (Link: YouTube)
Law & Order (1990-2010)
Composed by Mike Post
More than any other, this is the definition of a TV theme. Not only is it perfect for its series and a great standalone piece of music, but even if you're not familiar with the show, you probably know the theme song – why the decision to dump it was so shocking. This great theme spawned a new iteration for each of the show's spinoffs. I watched the show so often as I grew up that there became a joke that it might become my new theme song. It didn't, obviously, but when I think about TV theme songs, this is the one that comes to mind first. (Link: YouTube)
This is by no means a complete list, and it probably never will be. I can think of other themes that I enjoy (Psych, The X-Files, The West Wing, Dragnet) and others I'll always remember because they've gone down in history (MacGyver, The Simpsons, Cheers). That's why it pains me so much to see a lack of TV themes and opening credits today. A theme and a credits sequence can really give a feel and an identity to a series in that thirty to sixty seconds, and yet, it seems, they're a dying breed.
What are some of your favorite TV themes? Share them below.