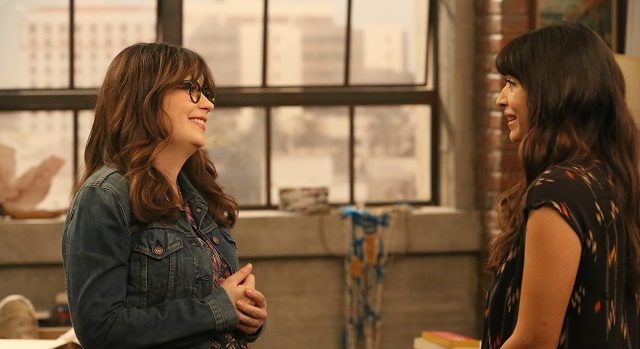 The 2016-2017 year was very busy for television! At times it was tough to keep up with, but we at TVOvermind were able to manage. What's more, we've come together to discuss the best, the worst, and the wacky that happened this year.  We've decided to come up with a numerous amount of categories for "best" and "worst" of and today we're going to go over those characters that truly made us proud.  Whether they experienced personal growth, accomplished something great, or just made us cry, we hope you enjoy our staff's picks!
Jasef Wisener -Â Jessica Day (New Girl)
I've been a New Girl fan since the beginning, and I've stuck with the characters through all of their ups and downs. While I haven't always agreed with the character choices, the most recent season of New Girl did a lot for Jess that I was incredibly happy about. On top of finally getting her dream job (something which she's worked hard to get for years), she finally admitted to Nick how she truly feels. Going into the final season of the show, I'm more excited than ever to see where Jess ends up.
Araceli Aviles – Sheldon Cooper (The Big Bang Theory)
Eleven seasons in, Sheldon Cooper has come a long way! Though many would consider his biggest hurdle finally getting intimate with Amy, to Sheldon that was not nearly as big a challenge as uprooting his entire life (albeit just across the hall) when he moved in with Amy. What's really wonderful about Sheldon's personal growth is that he's gotten to a point where he doesn't need to be pushed and dragged through new experiences. He's making decisions about his future based on instinct instead of logic, something that once seemed impossible. (Please say yes Amy!)
Nick Hogan -Â Crowley (Supernatural)
Once again, there are several characters that I would feel comfortable putting in this category, but I have to give props to Crowley for going out with a bang. Crowley has long toed the line between good and evil, and waffled back and forth between being an ally to the Winchesters and King of Hell. However, when Lucifer came calling, Crowley sacrificed himself for the greater good. At the end of the day, he knew that Sam and Dean were meant to save the world, and used his inevitable death to help save them. I had my beef with Crowley, and maybe think he was on the show too long, but I give him a standing ovation for sticking the landing.
Blaise Hopkins -Â Oliver Queen (Arrow)
Arrow was the most improved show of the year for me, which is why Oliver is the character I'm the most proud of. While Stephen Amell's acting has never been the problem, the writers just seemed to finally have Arrow back to normal and reigning supreme as the top superhero on television. The character finally feels like he has his head on straight again and has been aces this season. The show pushed the main character to the absolute brink and had Oliver hold on strong to his morals and everything he believes in and stands for. It was a blast to watch and displayed how strong the character truly is.
Tiffany C. Lockhart -Â Dr. Linda Martin (Lucifer)
Dr. Martin is the best. She says it like it is (like Maze does) and is there whenever a friend (or patient) needs her help. I feel sorry for her every time Lucifer abruptly leaves after a session, thinking that a breakthrough has been made with regards to his many issues. I am amazed at her ability to be so patient.
Chris King – Oliver Queen (Arrow)
The first four seasons of Arrow chronicled Oliver Queen's struggles with darkness and his shift towards the light, but Season 5 of the CW superhero drama fully dug into the Green Arrow's real demons, as the villainous Adrian Chase forced Oliver to confront the monster inside of the man, the one truth that he had never wanted to admit. After Oliver spoke his deepest, darkest secret aloud (that he enjoyed killing people–he murdered because he liked it not because he thought it would protect the city) and confided in those he loved and trusted (specifically Felicity and Diggle), he was finally able to shed his former skin and become the truest and best version of himself. This evolution wasn't an easy one for Oliver; in fact, it's certainly the most difficult and challenging process we've seen him go through so far on Arrow. But the results so far have been outstanding, as Oliver has become a healthier and more human person and has fostered more fulfilling relationships with his friends and family, and as a major Arrow fan, it was so immensely satisfying watching Oliver's transformation this season, as he learned to trust himself enough to fully love the most important people in his life (including Ms. Felicity Smoak). Here's hoping this new and improved Oliver sticks around when Arrow returns for Season 6 this fall.