A week ago, I had the opportunity to interview Joel Gretsch who plays Father Jack Landry on ABC's 'V.' Father Jack has been an integral part of the Resistance since the beginning. What started out as troubled faith, ended up putting this priest in the middle of the action. He has struggled with aliens, his faith, and a forbidden temptation. Here Joel Gretsch talks about Father Landry's struggles and what it's like to work on 'V.' Watch 'V' on ABC on Tuesday at 10 EST, after LOST.
When will we see the inevitable Father Jack and Erica hook-up?
You'd be surprised how many times I get that question. Gosh, the story kind of lends to a very intimate relationship, being that who we can trust is the background of everything. The only one Jack can trust is Erica. Being that we start from the beginning on a roof top at the end of when the V's first showed up, and how it was revealed what their intentions were, it was very intimate. But, you know, Father Jack is a Priest so it will be very important for him to have faith, and his relationship with God is the forefront of who he is. With that said, he is also working side-by-side with Elizabeth Mitchell and if you've seen her, it's kind of hard not to… (laughs).
How do you feel Father Jack's faith is holding up in light of everything he has seen?
I think he's put in a place where he is a fish out of water, he's compromised, he feels ill-equipped. Being in a resistance was never his training, even though he was in the war he was there from a spiritual standpoint. His faith definitely gets challenged in many ways, and in many ways it becomes more solidified. We're talking about stories lines of basically life and death and to what Anna's intentions are and what she is trying to accomplish, and being that we are the resistance and that we are going to have to clash with that, and people are going to get hurt. It's a difficult place for Father Jack to be. But yet, he can't be sitting idle. He's got to do stuff.
So we'll be seeing more action from Father Jack as things start to challenge his faith?
Yeah, that's very well said. Jack's backstory becomes more prevalent. There is a past to Father Jack. It's an interesting thing, as all of us actors get parts you always wonder '�where did he come from?', before page one of the first show. What's his backstory, why did he become a priest, what was his relationship to his family? There's certain subtleties that get revealed about Father Jack that are quite interesting.
Will Jack continue to be affected by the R6? Will any new effects materialize?
Jack is aware that something is put into him, and being that it is R6 he doesn't know how that is going to affect him. The fear is that it could be the worst, '�am I dying?', '�Are they trying to change me?'. Being that he can't trust Anna and the V's, what has been done to him? Throughout the season you'll also figure out more about that, and to what degree that is affecting Jack?
Can you talk about the emotional impact of the recent major death?
The great combination about that, Alex, is that it is emotional from a standpoint that it is really well written, I think Scott Rosenbaum did a beautiful job, and the writers of the show, to really use the relationships that we've all established. We're a small group of resistance, as of right now, and each one of us know what we're up against. So the writing is great there, but also the actors � we're all really a tight-knit group of actors and we all care very deeply about the show, and what we are trying to convey. I think that combination is ripe for really beautiful and emotional things.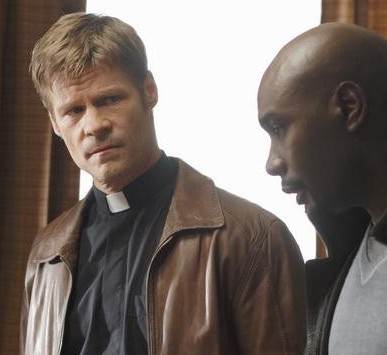 How has changing show-runners affected the show?
I think more than the show runner, it was the time we were down for a few months. We're all trying to accomplish the same thing, we're all trying to put a great show out there, to stay working, and to make the fans happy. The new show-runner has been great, we're all trying to accomplish the same thing and I think Scott Rosenbaum has done a beautiful job of writing a good show for us. It's all been positive.
You've done a lot of ScFi with Taken, The 4400, and now V. Do you have an affinity towards the genre?
It kind of worked out that way but yeah I do, it's hard not to. But all of those shows you mentioned are great character driven shows, SciFi is more the backdrop. You look at Anna, and you look at Morena playing the role, and Elizabeth, and Scott Wolf, all of these really great character roles. Everybody has a great want, need, and desire, and I think that with SciFi is great storytelling and I think our show has all of that, and so did Taken and The 4400.
What has been your favorite part of being on V?
To be honest with you, it's working with the other actors. I get to go to work with Morris Chestnut, Elizabeth, and Scott Wolf. It's a treat. We've all been around for a while, and we all know that when you're working as an actor it's a blessing, and then when you're doing a good show and working with good people it's even better.