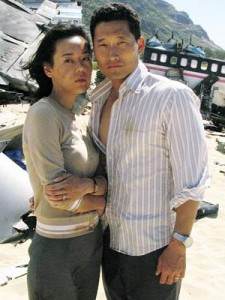 I had the opportunity to meet both Yunjin Kim and Daniel Dae Kim at a press party the night before the Lost Season 6 premiere on the beach in Hawaii, and it was a pleasure to discuss the trajectory of Jin and Sun with both of them. This audio and transcript are from my interviews with them on the Red Carpet; we discuss the relationship between these two pivotal characters, as well as their long overdue island reunion.
Yunjin Kim interview
How do you feel as you're getting near the end of the season?
I don't know. I didn't think that I'd be a little emotional, but tonight I'm feeling a little emotional as I see these lovely fans. And they've been out here for so long, I hear.
I have to say, the fans are really clamoring for a Jin and Sun reunion. There's Sawyer/Kate/Jack and then there is Sun and Jin. People are rooting for you.
Sun and Jin have the most tangible relationship on the show, being the only married couple. So I think that's the reason why so many people want us to be happy and have a happy ending, but this is Lost, so…
Daniel Dae Kim interview
There is a lot of focus on the love triangle; Jack, Kate, Sawyer. But I have to tell you, I'm really concerned about Jin and Sun. They are the heart of the show, and the fact that we went a whole season without seeing them together…
One of the great things about our show is that there is something for everybody. So just as you have the Skaters and Jaters, I'm glad to know that there are fans for Jin and Sun.
I know you can't tell us if there is any kind of reunion, but I'm sure you're enjoying having a lot of the cast back together. Like Emilie and Harold.
It's great. It's been really great to see old friends, because that's what they've become.
Has the toned changed, is it a little more emotional as you're near the end?
A little bit, sure. The realization that this is the last time we'll have something like this or once we have particular scenes, knowing that this might be the last time we're ever at this particular location…yes, absolutely.
Full Audio: Yunjin Kim
Full Audio: Daniel Dae Kim