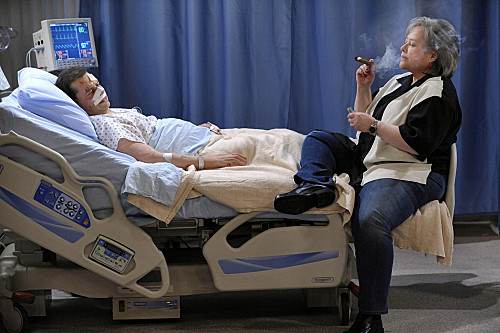 When Charlie Sheen was fired, with a full load of venom, from Two and a Half Men the world figured they'd seen the last of Charlie Harper. Not so! In fact, Charlie makes his return to Two and a Half Men tonight complete with bowling shirt a cigar. No, Charlie Sheen did not magically work out his differences with Warner Brothers and Two and a Half Men show runner Chuck Lorre, instead the part of Charlie Harper's ghost will be played by none other than Oscar winning actress Kathy Bates.
Okay, so I'll admit none of this is exactly a secret, but on the odd chance you are one of the 2% of Two and a Half Men fans that didn't know, or simply forgot the episode was airing tonight, here are a couple of promos from tonight's Two and a Half Men, "Why We Gave Up Women", which airs tonight on CBS at 9PM EDT. Frankly, I'm most looking forward to Chuck Lorre's vanity card at the end of the show. Charlie Sheen has humbled considerably since leaving Two and a Half Men and had even said he was honored that Kathy Bates was going to be playing his ghost on the episode. Let's see if Chuck chooses this opportunity to cool off a bit himself.
If you were really hoping for the return of Charlie Sheen, don't worry. His new show Anger Management will premiere June 28th on FX. Stay tuned for details on that.
"Why We Gave Up Women" — After Alan (Jon Cryer) suffers a minor heart attack, Charlie's ghost pays a visit to his hospital bedside, on TWO AND A HALF MEN, Monday, April 30 (9:00-9:31 PM, ET/PT) on the CBS Television Network. Academy Award winner Kathy Bates guest stars as Charlie. Photo Credit: Warner Bros. Television Entertainment/Darren Michaels