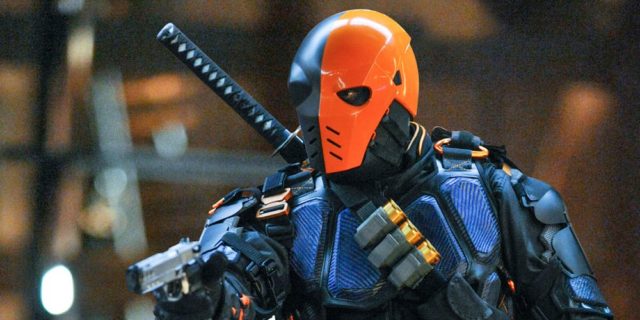 The sixth season of Arrow is set to start up on October 12 of 2017. As a result, there has been a fair amount of information released about the TV show, which has provided interested individuals with plenty of material to fuel their speculation. For example, there is now new information about the role of Deathstroke in the upcoming season, which should come as welcome news to those who are a fan of how the character is used on the TV show.
What Can We Expect from Deathstroke on the Sixth Season of Arrow?
After being absent from Arrow throughout Season 4, Deathstroke reappeared in the finale of Season 5, where he helped instead of hindering Oliver on his mission to Lian Yu. Technically, Deathstroke's final remains unknown because of what happened to the island, but since this is a TV show based on a comic book series, it should come as no surprise to learn that he will be showing up in a two-parter consisting of Episodes 5 and 6 in the upcoming season.
The exact content of the two-parter remains unknown at this point in time. However, we know enough to support some reasonable speculation. For example, we know that the two-parter will be featuring flashbacks. As a result, it is not unreasonable to assume that it will be exploring Deathstroke's background to some extent instead of just focusing on the events in the present of the setting. This is particularly true because we also know that Arrow has been searching for someone to play the part of Deathstroke's teenage son Joseph Wilson, who has been mentioned as being something of an introvert. Since the finale from Season 5 set up Deathstroke's interest in finding his son, it seems safe to say that the two-parter will focus to a large extent on said mission, while the flashbacks will provide useful information about Deathstroke's background as well as how things have come to be the way that they are.
What Else Does This Mean?
On a semi-related note, some people speculate that the increased prominence of Deathstroke in Arrow could have important implications for his counterpart in the DC Extended Universe. When Deathstroke made his return to the TV show, it was mentioned that it took some time because of the DC Extended Universe's plans for the character in the upcoming solo Batman movie. However, said movie has encountered more than its fair share of problems, which seem to be in the process of being resolved via rewriting the script.
As a result, the fact that Arrow will be making so much use of Deathstroke in its sixth season suggests that the character won't be surviving the rewrite of the script for the upcoming Batman movie, which will come as welcome news to Arrow fans but not so much for people who were hoping to see the character in the DC Extended Universe. Still, this is no more than speculation based on a less than perfect foundation, meaning that interested individuals should not pay too much attention to it until more information comes out confirming it to be either true or false.