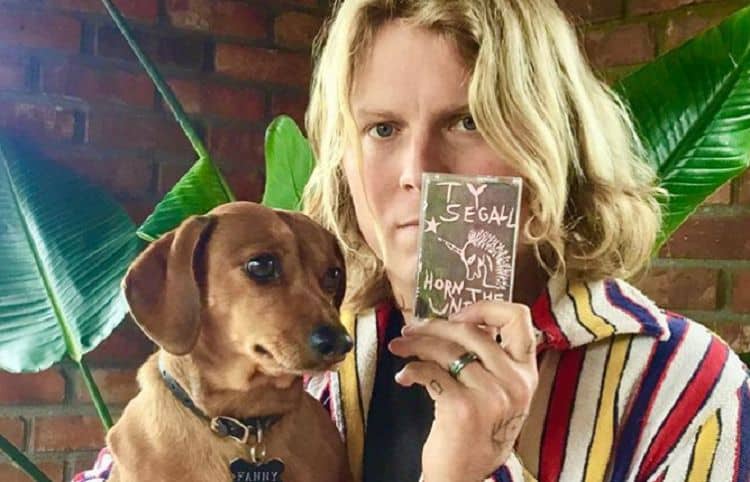 Ty Segall is an American singer and musician who is known for his career as a solo artist. He has ten studio albums to his credit and he has a huge following of fans who would like to know more about him. Out of curiosity, we looked into his past where we learned a few things about the singer that we were not previously aware of. Here are 10 things about Ty Segall that you probably didn't know.
1. He's been in several bands
Although Ty Segall is best known as a solo artist, he has also performed in a lot of different bands throughout the years. He recorded with the Ty Segall Band, and he was also in the bands Fuzz, Broken Bat, GOGGS, the CIA, Sic Alps, The Perverts, Part Fowl, Epsilons, and the Traditional Fools. he's had a lot of experience in the rock and roll scene.
2. Ty has had a lot of backup bands in his solo career
While the majority of music artists have just one or maybe two backup bands in their entire career, this isn't the case for Ty Segall. He has hired a variety of different backup bands to play behind him in concerts as well as when he's recording. His most prominent live band is the Ty Segall band which consisted of Cronin on bass, Moothart on guitar and Emily Rose Epstein on drums. His current backup band is the Freedom Band with Mikal Cronin on bass, Charles Moothart on drums and Emmett Kelly on Guitar. They're joined by Ben Boye on piano and Shannon Lay. The Muggers was another band which included Cronin, Kelley, Kyle Thomas on guitar, Cory Hanson on keyboards and guitar, and Evan Burrows on drumsThe Sleeper Band is another of his backup musicians with Sean Paul on guitar, Andrew Luttrell on bass and Moothardt on drums.
3. He was adopted
Ty Segall was adopted by a family who lived in Laguna Beach, California. He was raised in a family with professional parents. His mother is an artist and his father is a lawyer. He was fortunate to have a family that loved and cared for him. They provided him with a stable home to start his life. As a kid, he had a variety of interests including surfing and music.
4. His teen years were marked by instability
Ty Segall described himself as a teen who was emotionally unstable. He was drinking alcohol by the time that he was 18 years old, but he found a cure for this instability through music. Music was the distraction that helped him to escape from his troubling thoughts and mixed up emotions. He also discovered that it was not only a passion, but he was really good at it.
5. He went to college
Even though Ty had some emotional ups and downs in his life, he maintained focus on a few important things that really mattered to him. One was music and the other was his education. He graduated from high school and then he enrolled in classes at the University of San Francisco. He graduated from the school with his degree in media studies. This would serve him well in the natural progression of his career and it gave him a good foundation for higher pursuits within the music industry.
6. Ty has changed a great deal in the past decade
Segall acknowledges that he's done a lot of growing and maturing in the past ten years. He's achieved a great deal of success in his music career with 13 full-length albums to his credit. The covers on all of his albums feature a rather telling characteristic that includes some type of metamorphosis. That is precisely what his music has done throughout the years, and he along with it. He's undergone a great deal of change and maturity. Although there is the definite sense that he's encountered a variety of mood swings, he's evolved into one of the greatest writers of pure rock and roll music in this era.
7. His music is all things to all people
One of the most unique attributes of Ty Segall's music is that it embodies so many different styles that there's a little something there for about every type of rock connoisseur. You'll find strong flavors of heavy metal in some, garage rock, grunge, grime, psychedelic, glam, and punk. This is on purpose because it reflects the many aspects of who he has been as a person and who he is now. Ty Segall is a multifaceted professional and if you're paying attention you can learn a lot about him through his music through the ages.
8. Forget finding a pattern
When Ty speaks about his music, he's very upfront about the fact that the only pattern that you're going to find in his music, is that there is no pattern. His "Freedom's Goblin" album embodies this simple principle. He was out to make this album as different as he could. He was attempting to infuse four different personas into the album. He even went to the great lengths of recording the album in four different studios just o make it that much more different. Before you even ask the question, no, Ty does not have a diagnosis of multiple personalities, but he is a creative artist who knows what he wants to deliver in an album, and he'll go to great lengths to achieve it.
9. Segall values diversity
The genre of rock and roll is so very rich and there are so many subgenres within the umbrella category. Segall has found his talent in targeting the diverse styles and bringing them together in an infusion that is every bit as unique as a finely crafted wine. It's very much along with the same lines as a designer style of songwriting. He's not restrained by any specific rules per se, other than those of his own creation. It's the diversity in his compositions that gives them their unique flavor.
10. He's still going strong
Ty Segall is still performing for live crowds, and he's still writing new songs to perform. This is something he's spent the majority of his adult life doing. It's inescapable that he's one of the best songwriters in the business. He's made the music industry his life, and he's so versatile that he also plays multiple instruments, sings and he produces albums to boot. Ty Segall is a fixture in the music industry and we believe he's going to be around for a long time to come.