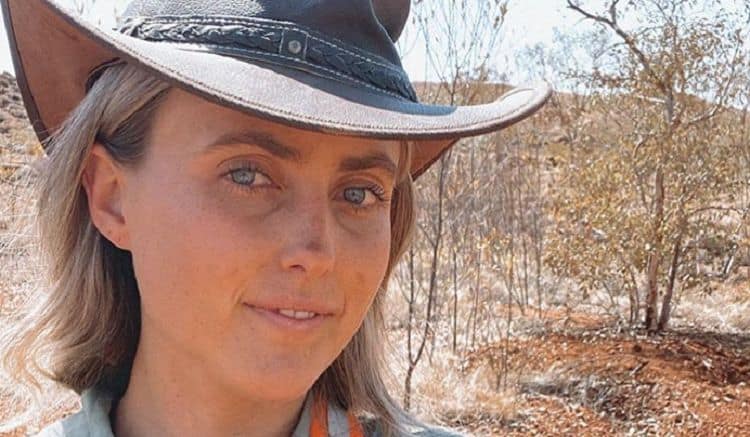 Gold prospector and digger Tyler Mahoney is a Western Australian 21 year old. She hails from a town known as Kalgoorlie, and digging for gold isn't all she does. The young beauty is proud to be called a gold digger, as it's all she's known throughout her life. As a matter-of-fact, her entire family is proud of what they do and to share all of their experiences, they have started a show centering around their life and it's called, Aussie Gold Hunters. Some compare it to the long-running, The Deadliest Catch, but say it obviously doesn't involve the dangers you see in the crab-hunting show, filmed on the Bering Sea. You may recognize this beautiful, young face, but here are 10 things you didn't know about Tyler Mahoney.
1. She's the spokeswoman for the family's business
The Mahoney's have years and years of experience prospecting gold, so why wouldn't they share their knowledge to help others? That's exactly what they wanted to do, which inspired them to start, The Prospector's Club, where you can get first-hand knowledge, tips, and help with your own prospecting endeavors. Tyler Mahoney was enlisted as the spokesperson for the business and you can see her all over their website at "theprospectorsclub.mykajabi.com," telling you about the family business, their webinars, and much more.
2. Gold is in her family's genes
Digging for gold isn't anything new to the Mahoney family. As a matter-of-fact, Tyler is the fourth generation of Mahoney's to be gold diggers, and the love of the hunt for gold will continue in the family for many more generations.
3. She remembers exactly how large her biggest score of gold was
According to abc.net.au, Mahoney recalls the most gold she ever unearthed and it happened when she was just a young prospector. She has said that when she was still young, she found a five ounce piece of gold, the largest she's discovered in all the years she's been digging for it. She recalls the excitement of it; screaming and jumping, and running to show her parents. She also recalls selling the gold for spending money, that she now has some regrets about, wishing she'd kept it, but that would probably be expected from any young kid who'd rather buy clothes and have money in their pocket to burn.
4. Her family mines in an old, old gold mine area
Western Australia, which is situated on the northeast side of Perth, is long known for its gold prospecting. As a matter-of-fact, the area had a gold rush back in the late 1800's, just the same as Alaska did around the same time. And the area continues to be prosperous enough to keep gold diggers like the Mahoney's, coming back and hunting for the precious element.
5. Are the images you have of an "old" gold prospector accurate?
Mahoney was asked if people's typical picture of an old gold prospector is accurate, when doing an interview once. An old gold prospector image that most people picture in their minds was described to Mahoney as being an old man with a floppy hat and big, bushy beard, and when asked if that's what most prospectors really looked like, Mahoney responded with a 95 percentile on that. Apparently, those old pictures and characters in movies were pretty spot-on with that depiction of old gold diggers – at least the ones in the Australian bush.
6. She's an entrepreneur
Aside gold hunting, Mahoney has other things she's gotten involved with, including starting her own bathing suit line and making sustainable jewelry, both sold by her brand called, Mae by Tyler. Tyler's inspiration for her line stems from her love of the sun, sand, sea and environment after growing up close to, and spending a great deal of time along the coast Australia. According to her own site at, maebytyler.com, she uses the elements of the sand and sea to create beautiful and original pieces that reflect her appreciation for the oceanic environment.
7. You can see her wearing her own swimwear line
Not only does Mahoney design her own swimwear but she models her line for you to see, on her Instagram account. If you want to see how her variety of bathing suits look being worn by the designer herself, just follow her on her Instagram and you'll be kept up-to-date on her latest designs. By the way, this means you can add modeling to her list of all the cool things she does.
8. She loves keeping old traditions alive
Mahoney isn't afraid of hard work when it comes to doing what she loves, which includes, working excavators and other machinery, or dealing with the wide variety of natural conditions you'd expect from the earth. She loves keeping the old traditions of gold digging alive, despite it maybe causing a little extra, or harder work than more updated methods would.
9. She likes digging up more than gold
Digging for anything brings plenty of opportunities to unearth more than what you thought you were looking for, and Mahoney has talked about other things she's uncovered in the process of digging for gold. One thing she recalls digging up that wasn't a nugget of gold, but was still precious in its own right, was an old-time watch, which she recalls being an old antique Fob watch. She loves finding things that have a history and story to them.
10. She knows when miners are pulling the wool over her eyes
With as much experience as Mahoney has in the mining and prospecting business, she says that she knows when other miners are telling 'tall tales.' She has said that all she has to do is look at a nugget of gold and it alone, tells the true story, so there's no use in trying to pull a fast one when it comes to this highly intelligent prospector!