When I caught wind of Tyler Perry creating the drama The Haves and the Have Nots, a primetime soap nonetheless, for Oprah Winfrey's OWN Network, I simply cringed at the news, mainly because I've seen most of Perry's work and have not been a huge fan. In regards to his remarkably, unflinching drive and commendable work ethic, which a blind and deaf man could tell you is exceptionally exemplary and truly inspiring to anyone who aspires to enter the entertainment business, Perry receives nothing but the utmost respect from me, bar none. With that said, I would be lying to myself (and others who know me well) if I didn't say that most of Perry's work either induces a cringeworthy response or repeated sense of ire from me (Perry's family drama film, "The Family That Preys" is the huge exception to those fits, but I digress).
So imagine my reaction when I heard Tyler Perry was going to do a primetime soap, a genre which is dear to me like the latest Star Trek movie to a Trekkie. It was a conundrum of fanboy excitement and foreboding dread in which a huge part of me became impatient to see some footage, a cast list, something to help curb my fear of this potential good thing being a complete disaster. Well, last night The Haves and the Have Nots debuted with a two-hour premiere and it immediately shut up my fears and served it a healthy dish of crow. Mostly.
Based on Perry's play of the same name, The Haves and the Have Nots centers around the rich and powerful Cryer and Harrington families and the humble and strong Young family as their lives intertwine to cause a nasty web of deceit, betrayal and a closet full of secrets that can last seasons if Perry is lucky. Watching the premiere, I couldn't help but sense a nostalgic tone for the old school, mega-primetime soaps, such as Dallas and Dynasty, which Perry either studied intensely or polished up an old Dynasty script he'd written as a teen.
The Have and the Have Nots is hands down your typical soap opera, which follows the formula to a fine "T." You have the scheming seductress; the miserable matriarch, the adulterous, powerful patriarch, the troubling, bad boy of a son, and the commoner, the audience's eyes and ears who is unwillingly wrapped up in the dramatic nexus surrounding them. The Upstairs, Downstairs aspect of the show does give off an air of being there fifty times before," but, again, The Have and the Have Nots is unapologetically 'old-school." Perry doesn't rest on increasingly, complicated plots (*ahem*Revenge*AHEM*) or exotic locales to tell his tale of a girl set to bring down a powerful family, and the mother dead set on stopping her.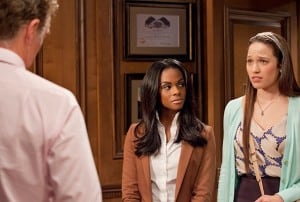 Instead he gives you the bare bones edition of a true soap by simply laying out the characters, their complications, and the twists and turns that will surprisingly leave you (either eagerly or reluctantly)Â wondering where the story will take you next.
Now with all that said, the simplicity of The Haves and the Have Nots, which gives it a little charm, might not work with today's savvy TV audience, who have been weened on pop culture laced dramas such as The O.C., Revenge, Scandal, and the current version of Dallas. Some of the character arcs and plot lines are way past dated to the point where it can be pretty predictable for those who have seen the vengeful Emily Thorne take down half of the Hamptons' elite with an air of delighted glee and statuesque poise. In contrast on The Haves and the Have Nots, the only goal for Tika Sumpter's Candace Young (who seriously owns the show at this point) is to simply blackmail John Schneider's Judge Jim Cryer, who is about to run for an elected office in Georgia. Why would she do that? Did The Cryers have anything to do with Candace's absent father not being in the picture? Did they screw over her family at any point in her life? Nope, she just wants the best in life and will scheme and sleep her way to the top to get it. Somewhere, Emily Thorne is laughing her ass at Candace's intentions while planning her next "dead to the bed" worthy takedown.
The audience might not want to predict a rehashed storyline as well, like the arc of the closeted gay man, whose father is firmly a conservative and for "traditional family values," (i.e. "anti-gay"). This story is ripped straight from the pages of Dynasty's first season, which pushed several boundaries then. Now however, it would only register either a shrug or a OMG! It's 2013!" response from people who've either lived it or don't see what the big deal is anymore. Again, I can practically see Steve Carrington making an "It Gets Better" video for this character, because hopefully it does get better for him and Candace (as well as the audience) as The Have and the Have Nots moves forward.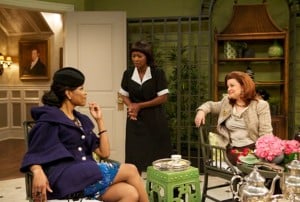 So is The Have and the Have Nots worth your time? If you are a soap opera fan, then yes, indeed. While some elements of the two-hour premiere had me rolling my eyes at times, the show still felt as if I was watching a daytime soap, which now has storylines far more basic than the ones we saw in Perry's pilot. There is a lot of potential for Tyler Perry and this show (and I do mean "a lot") to break boundaries, especially in the African-American in soaps department. While Shonda Rhimes and Kerry Washington have brought Scandal on the scene, The Haves and the Have Nots could make up for missed opportunities such as NBC's defunct soap Generations and countless others that didn't even make it past pilot or their script form. So I will be most definitely be keeping an eye on The Haves and the Have Nots this summer, but mostly to cheer it on to the greatness it can achieve.
It just have to smooth out most of the bumps along the way.
What did you think about the premiere of The Haves and the Have Nots?
Photo Credits: OWN