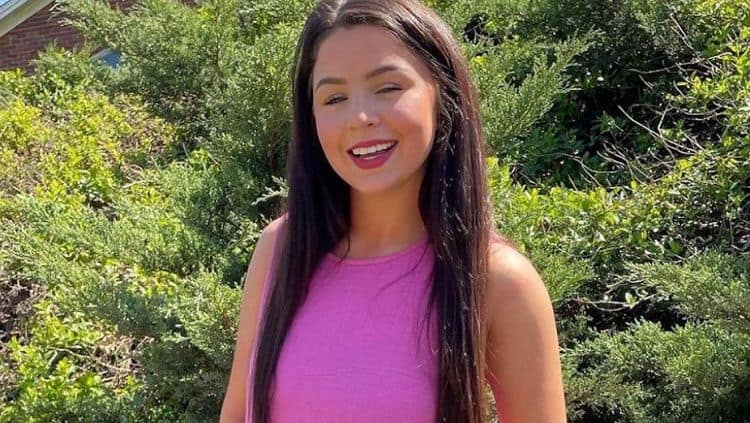 Being a parent can be a challenge even for those who have prepared to welcome a child into the world. So it goes without saying that it can be even more challenging for people who have children unexpectedly – especially when those people are still just kids themselves. This became reality for Tyra Boisseau when she became pregnant as a teenager. Despite the obvious stress, Tryna and her boyfriend, Alex, handled things as well as they possibly could. Tyra managed to not only finish high school but enroll in college as well. Her story may not be going the way she always planned, but she's learned to make the most out of it. Here are 10 things you didn't know about Tyra Boisseau.
1. She Started A YouTube Channel
The TLC cameras aren't the only ones Tyra has decided to share her story on. She also created a YouTube channel where she's posted a handful of videos including various updates about what's going on in her life. Even though she started the channel a little more than two years ago, she already has over 1.5 million views.
2. She Likes To Sing
Early in 2020, Tyra decided to take a step outside of her comfort zone and upload a singing video on Instagram. In the caption, she said, "never posted anything like this before so take it easy but I know you guys love me regardless." Many of her followers enjoyed the video and asked her to upload more.
3. She And Alex Broke Up
Maintaining a relationship as a teenager is hard enough on its own. Adding a baby into the mix can make things even more difficult. Still, Alex and Tyra appeared to be going strong and many had hope that they would stay together. Unfortunately, they decided to part ways after Tyra went away to college. They still seem to be on good terms, however.
4. She Continued Cheerleading In College
Prior to getting pregnant, cheerleading was the most important thing in Tyra's life. She feared that having a baby could mean that she would have to give up cheer forever. Luckily that wasn't the case. Tyra has joined the cheerleading squad at Campbellsville University.
5. She Likes Fashion
For some people, clothes are nothing more than something they have to wear in order to be out in the world. For others, clothing is yet another way for people to express themselves. Tyra is part of the second group. She has an awesome sense of style and she loves putting outfits together.
6. She Hopes To Open Up More
Unexpected may be a reality show, but that doesn't mean that it's an accurate depiction of the cast members' realities. Due to the nature of the show, viewers only get to see certain sides of every cast members' story. On top of that, NDAs and other contracts prevent the show's stars from disclosing certain pieces of information. Once the show is over, Tyra hopes to give people a different glimpse of her life through her YouTube channel.
7. One Of Her Family Members Suggested She Go On Unexpected
Tyra never had plans of becoming a reality star, but once she got pregnant the opportunity sort of presented itself. A family member sent her the casting flyer for Unexpected and asked if she'd be interested in giving it a try. Tyra decided to apply because she felt she had nothing to lose.
8. She's Done Some Modeling
Tyra is a natural in front of the camera and it looks like she has an interest in modeling. From what we can tell she hasn't worked with any major brands or publications, but she has done some photoshoots which she's shared on social media. Maybe in the future, we'll see her really get into the modeling industry.
9. She Enjoyed The Process Of Filming The Show
Many people who have done reality TV shows in the past have shared that they regret sharing their lives in front of the world. Tyra, however, doesn't feel that way. She actually liked filming for the show. In a YouTube video, she shared that being in the show gave her an outlet to talk about things that she didn't feel comfortable discussing with people in her life.
10. She Loves Nature
As a Kentucky native, there is a part of Tyra that will always be a country girl at heart. As a result, she loves getting the chance to spend time outside and she has lots of respect for nature and all of its beauty. When the weather is nice, Tyra likes to get out and enjoy some fresh air.