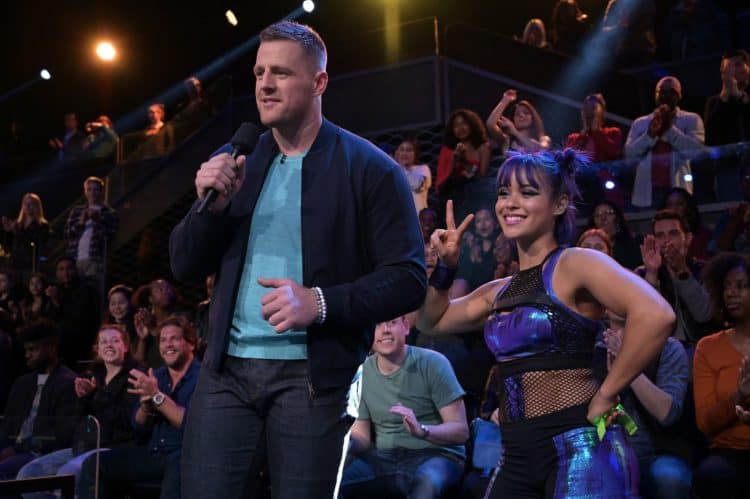 If you never played tag as a child, then "Ultimate Tag" could give you an idea of what you missed out on because it is bringing the action to your home. The contestants of the game are ordinary citizens who are tagged by professional athletes. They compete over a five obstacle course, with each course getting more extreme than the last while the taggers are released at different times. At the end of each episode, the winners, one male and one female, take home $10,000. Here's everything else you should know about the game.
1. It has been under development since 2018
If you have watched "TAG," Natalka will have you know that "Ultimate Tag" did not borrow the idea from the movie. The truth of the matter is the reality competition series was under development before the film, which led Natalka to believe that it copied the idea from them. According to Deadline, Natalka and the production team took the show's concept to pitch before the film was released and later, several such ideas were pitched.
2. It was scheduled to air in summer
Nothing has been going right this year, and most people are joking that buying a 2020 planner was the most illogical decision they made. The production team of the competition series could not agree more because after they wrapped up filming last year, they wanted to shelve the series until summer 2020. However, sports fans have had it rough with the interruption of baseball, football, and basketball. Rob Wade said that with the dire need for physical sporting activity on television, it was vital that they bumped their schedule; hence the series premiered on May 20, 2020.
3. It was hard getting NFL players to host
The producers of the show were looking to kick it up a notch by having NFL players host it. However, it was not as easy as they thought because getting a current NFL player who can host an unscripted show is difficult. At least that is what they thought until they came across JJ, who impressed them during a Skype meeting. The production team flew to Houston to meet JJ for a pitch, and he ended up getting the job.
4. The celebrities the cast would like on the show
With all the training exercises that Dwayne Johnson has posted on social media, it makes sense for Travis to think the actor would be great to tag during a celebrity edition. Of course, that would be serious competition considering how fit the former wrestler is. Brooke, on the other hand, wishes to see Robert Gronkowski on the show. Robert is a former NFL player who retired in 2019 after sustaining multiple injuries on different body parts during his active years on the field. That being said, he may not have the advantage of speed to beat other contestants.
5. Celebrities JJ would love to see on the show
While Travis and Brooke have their eyes set on only two celebrities, JJ has quite a list. Top on that list are Jimmy Fallon and musician Justin Timberlake whom he would root for since they have a bit of athleticism. The rest are professional players in the NFL and MLB who also happen to be his friends, but he did not give any names. As for helping out with the commentating job, JJ feels that Arnold Schwarzenegger would do a great job.
6. Best training needed to compete
Since the show is all about moving the fastest you can to get away from a tagger, yet having to deal with loads of obstacles, Travis believes the best training you can get is lots of cardio. According to his talk with HollywoodLife, he opines that once you are trapped with nowhere to run, you will lose if you do not have enough cardio training. The contestant added that doing some Parkour or anything that entails free training can give you an edge against your taggers.
7. The taggers also got hurt during the competition
Most television shows may look like fun, but the people involved get hurt; hence the warning "do not try this at home." Brooke Ence disclosed that although she had so much fun on the show, it was quite brutal and extremely physical, leaving her with bruised shins. Although the pro tagger is a CrossFit trainer who has had her share of bruises, she added that she got sore in a way she was not used to before.
8. About the hosts
"Ultimate Tag" is hosted by three brothers, and JJ, the eldest, is the primary host. He said that even if he were given a chance to host it with another person, he would still choose his brothers. They are all NFL players, and that sibling connection enabled them to have fun while filming. JJ recalls being entertained by the hard time TJ was experiencing while reading the teleprompter. With his experience hosting "SNL," JJ became the most obvious choice for most of the hosting.
9. Why JJ Watt thinks it is the ideal show during this pandemic
According to JJ, the show has come at a time when people need an adrenaline rush now that everything is in lockdown. He said that with everyone being at home, "Ultimate Tag" offers the entire family some entertainment since they all know the concept of the game. As per JJ, the show is an instrument to bring families together and provide them with the much-needed thrill.
10. The hosts desperately wanted to participate
If the three competitive brothers had their way, they would have enjoyed competing against each other. During filming, they saw a 30-foot dome in the air. It had a mattress underneath, and one had to jump without any harness. Instinctively, they wanted to compete and see who the best was, but their agent overheard the conversation. He warned them that they still are football players, and their coach would not be happy to see them put their careers at risk with recklessly jumping on a trampoline or from a dome 30 feet up in the air.