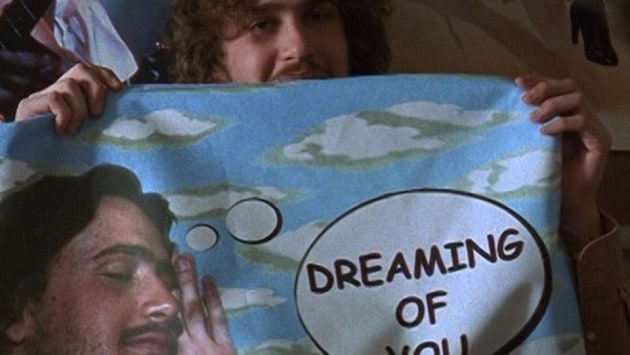 With the intensity of awkward, emotional moments in "Eric Visits," it's no surprise this particular episode of Undeclared was co-written by Judd Apatow. And it's a half hour full of signature Undeclared character material, be it Eric crying in the shower, Ron and Lloyd getting into a fist "fight," or Marshall's always-misguided attempts to gain Rachel's affection.
"Eric Visits" is really the first episode of Undeclared operating on all cylinders, with a script (co-written by supervising producer Rodney Rothman, who recently scripted 22 Jump Street) that draws parallels between the two men in Lizzie's life, and is able to deliver a fittingly uncomfortable, yet still cathartic, resolution to its central conflict. Plus, it marks the first on-screen appearance of Jason Segel as Eric, whose commitment to an otherwise absurd character gives it real emotional levity, a sneak peak at a budding comedic talent and his impressive range (range that is again on display in his performance as David Foster Wallace in the upcoming The End of the Tour). Eric isn't just a jealous boyfriend; he's a man clinging to a girl he loves that. He knows is holding her back, but in spite of that, can't let go of her. It's what makes him so self-deprecating, so unintentionally obsessive, and Segel conveys it beautifully, with a script that doesn't shy away from the equal amounts of tenderness and creepiness that Eric conveys with his on-again, off-again girlfriend.
Underneath that, "Eric Visits" is also a "Nice Guys Finish Last" story, and a great one; some might view Steven's decision to help Eric win Lizzie back as a weak moment, but Steven recognizes this isn't a relationship for him to help break-up. It's not his place, and clearly, neither of them are ready to break up just yet; as part of Steven's journey of maturity, he realizes the feelings and needs of others, something that shouldn't be overlooked by an 18-year-old, even a fictional one. It's a "lose the battle, win the war" kind of situation for Steven, and his patience is welcome amongst the collection of lustful, angsty characters on American television. Steven knows this isn't the time or place to make his feelings known, because the result is just ugly for everyone, even him. For better or worse, Lizzie needs to break up with Eric on her own terms, when she's ready, whenever or wherever that may be.
As awesome as the A-story of "Eric Visits" is, the background stories are no slouch either, though they do suffer from being interspersed with scenes of a really powerful story. What everyone else is up to is pure, relationship-building comedy, and it's terrific: after Ron brings back an unfinished keg and proceeds to fill every single cup, glass, and container in the suite with beer (which makes for a great running gag), the drunk duos of Lloyd/Ron and Rachel/Marshall go their own separate ways for equally misguided adventures into human connection (in short, Ron suggests watching You've Got Mail drunk, and Marshall gets a bird so the girl he's talking to will notice him).
These stories don't need the weight Eric and Steven's do; instead, they forge bonds between characters through shared awkwardness, a tenant of Apatow's comedy I always find to be underrated (though when that is used for disgusting absurdity rather than the uncomfortable tension between awkward conversations or gestures, it's much less effective). And it finally makes Ron a bit of a character, something Undeclared's first two episodes severely lacked – he's not drawn in three colorful dimensions or anything, but his conversations with Lloyd give the character some much-needed texture, as well as provide a nice counterpart to Lloyd's curt, direct personality.
The conclusion of "Eric Visits" is really what seals the deal; animal humor and drunk displays of masculinity can only be mined for so much comedy, and "Eric Visits" never loses sight of the ideas expressed in the exchanges between Eric, Steven,and Lizzie throughout the episode. Despite its depressing, revealing, and often uncomfortable underbelly (remember, this all begins because Steven pushes the two to break up with each other, orchestrated for his benefit), "Eric Visits" is a surprisingly positive, almost hopeful episode of Undeclared – and the show's first standout half-hour.
Other thoughts/observations:
– Monica Keena squealing drunken dialogue always makes me laugh, for some odd reason.
– This would be the first time Undeclared employed D'Angelo's "Untitled (How Does It Feel)"; it would not be the last, or the funniest.
– Steven and Eric quote the same vague Sting line about letting something go that you love, a wonderful (if overt) way to compare the two of them.
– Rachel's hair gets increasingly unkempt through the episode, as if to mirror Marshall's own. Terrific little visual touch.
– Cameo Watch: Another frequent Apatow/Feig collaborator, Enlightened creator Mike White, appears as a creepy pet shop employee who sleeps with cats and knows he looks kind of like a rodent.
[Photo via FOX]