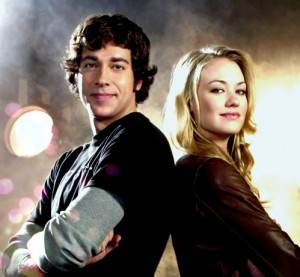 Okay so maybe Chuck isn't that big of a surprise, but Dollhouse? Castle? Scrubs!? Let's sort this out by the for-sures. Nathan Fillion's Castle, which has been notably struggling on Monday, has been given a full season order – although that will not be official until next week. The scrubs renewal may be a little bit of a tease as THR is reporting that Zach Braff and much of the principle cast will only be on board for six episodes, just long enough to kick of a spin-off-esque new format. Scrubs is much loved by the mouse, who produced the show while it was on that other network. Executive sentiment is said to play heavily on the Castle renewal as well.
On the Fox side of the aisle is the surprising, to some, renewal of Dollhouse. While not totally official yet, the news has made its way across the most reputable insider blogs on the net and seems to be rock solid. Should we be surprised? Dollhouse being a sci-fi show, brand appeal is a big factor in its success – and Dollhouse has been picking up some awesome DVR numbers. This is not to mention the cult appeal of creator Joss Whedon, whose zealots see him as the twang of the zeitgeist.
The rumors of a Chuck renewal are just starting to bubble up, so it's not known how reputable the intel is. On the other hand, those that are reporting it are less than surprised. Chuck has a devote fan base in a highly competitive time slot, and heck – the suits love it. So maybe the least surprising bit of news out of the bunch, but surely a relief. Don't dig out your buy-more discount cards until the peacock announces it for sure, though. Mmmkay?