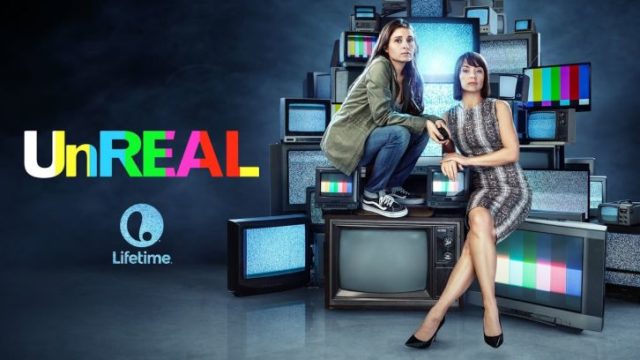 The "real" and highly-anticipated return of a beloved drama series is happening on February next year. Get ready for more suitors, drama, manipulation, and seduction in the world of Everlasting. This time, there will be a suitress that will shake things up and go against the queens of reality TV.
Lifetime has announced the premiere date for the third season of its critically-acclaimed drama series UnREAL. The highly-anticipated return will be on Monday, February 26 at 10pm ET/PT. In this season, Caitlin FitzGerald (Masters of Sex) takes the reins as Everlasting's female "suitress," Serena. Determined to have her pick of eager male suitors, Serena will face off with Everlasting's queen bees, producers Rachel Goldberg (Shiri Appleby) and Quinn King (Constance Zimmer) who are shaking things up, all for the sake of ratings. The ladies will be tempted more than ever when they're surrounded by hot new suitors including Bart Edwards (Peep Show), Alex Hernandez (Chicago Med), Adam Demos (Aboriginal Heart) and Alex Sparrow (Russia's Bachelor).
The third season will mostly have female directors including Appleby, co-creator Sarah Gertrude Shapiro, Zimmer (making her directional debut), Hanelle M. Culpepper (Empire), and Sheree Folkson (Doctor Who). Co-created by Shapiro and Marti Noxon, UnREAL gives a fictitious behind-the-scenes glimpse into the chaos surrounding the production of a dating competition program. Fan favorites Craig Bierko (Chet), Josh Kelly (Jeremy), Jeffrey Bowyer-Chapman (Jay) and Genevieve Buchner (Madison) are all set to return. The show begins production on its fourth season this month in Vancouver.
You can watch the trailer of the third season here:
Save