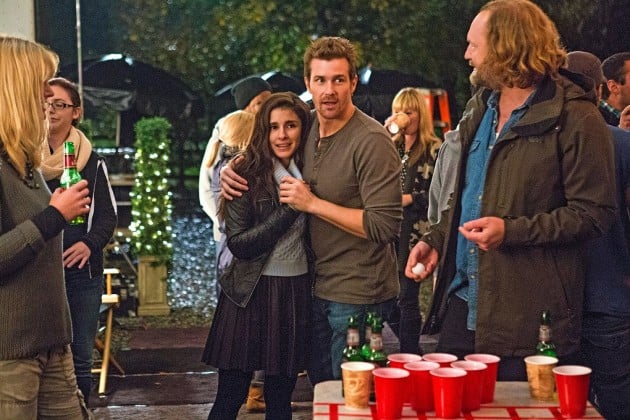 UnREAL's psychological examination goes existential in "Princess"; instead of focusing on the ways in which Rachel and the Everlasting crew contort the boundaries of reality through television production and human manipulation, "Princess" takes a step back and muses on the human condition, and how malleable reality can be in the hands of an individual. At one point in the episode, Rachel tells a smitten Adam that "none of this is real" – however, it sounds like she's trying to convince herself of this, as "Princess" warps her world, until, somehow, she's become the titular character of the hour, rather than the girls Adam's supposed to be choosing from.
How "Princess" plays with the concept of reality is fascinating. It doesn't back away from the complications of searching out truth within ourselves and others, and, ultimately, understands that the very nature of human decision comes from self interest. This is important: on another show, everything from Quinn's decision to potentially ruin Chet and Rachel's lives to Rachel having bored shower sex with Jeremy (while trying to clean herself up from her tryst with Adam, ironically) is portrayed with a balanced eye. By definition, a camera provides a suggested perspective. Despite that, nothing in "Princess" tips its hand to whether any of these events and proclamations are truly "real," nor does it try to steer audience's emotion by depicting a certain action as "bad" or "good."
There are not many television shows that can do this. Even a show as morally ambigious as Breaking Bad understood that its main character was a bad person, often going out of its way to make that point. UnREAL does no such thing with any character, and it makes "Princess" (and the show as a whole) a much more engaging watch than just about any show on television. UnREAL actively asks viewers to pass their own judgment on characters, effectively portraying both sides of the table in a way that doesn't stay loyal to any character, major or minor. That tone is abundantly important to what "Princess" is trying to do, and thanks to the eight episodes preceding it establishing this tone, UnREAL is able to deliver an absolute knockout.
Save for putting on the glass slipper, Rachel becomes a character in her own Everlasting fairy tale in this episode: she's the one Adam wants to pick to be with him, asking her to run away with him while she clutches his bottle of whiskey and looks out into the dark night. Is Adam delusional? Can he actually provide the opportunities, emotionally and professionally, that make Rachel so jealous of Anna throughout the episode? She tries to convince herself she just needed to get Adam "out of her system," but Quinn is right when she says that "It means something now" – and not just professionally. We can already see she's feeling the strain of being with Jeremy for the rest of her life, no matter how "nice of a guy" he is; but Adam's spent his entire adult life being full of crap, so can he be trusted?
The dichotomy "Princess" finds with each and every character in the episode is uncanny. Even Quinn's self-righteous attempts to cut out Chet from her career and life, hitting him with sexual assault charges (from his little foray with Madison, who herself becomes confused about the reality of that situation) is given two sides. She's spent so much time being screwed with by him that she's seen herself transformed from Madison into the woman who enjoys being called an "evil, conniving little b****" (boy, she really revels in that moment). But she's not sympathetic about it: she owns that identity, in a way that even Rachel isn't able to engage herself with. For all her faults, Quinn knows herself and what she really wants. She may not go about it in the most fair or subtle ways, but can we not deny her that truth?
Arguably the only real villain here is the philandering, sloppy Chet – and he even takes care of a sweet little puppy in the rain, so we really can't be too mad at him, can we? Yes, we can, but that image alone sums up the beauty of "Princess": in the right context, anything can seem like truth. And that's what leaves Rachel breathless at the end of the episode: not Adam's romantic plan to "run away together," not her floundering feelings for Jeremy, and not her career manipulation at the hands of her boss and supposed mentor. It's the fact she's become so lost, separated from what she wants in life, or even how to find it: how can she even give Adam an honest answer, yes or no? Does she even understand how she feels, or whether his offer is genuine?
Every scene in "Princess" posits this about a character, as all the woman swirling around Everlasting try to figure out what they want in life and try to assert it (like Dr. Wagerstein, who lays a whole lot of ambition at Chet's feet near the end of the episode, revealing Quinn's plan to take him down along with her own plans for fame), letting the rainy setting of the supposed "romantic trip" be revealed for the farce it is (fake horses! hot air balloon rides ten feet in the air!), and pondering how much else of what happens around those facsimile moments are "true," or like the show, simply in pursuit of some convenient truth. And it makes for a riveting hour of television; UnREAL is undoubtedly the best new show of the summer, and "Princess" is a showcase as to exactly how it earned that title.
Other thoughts/observations:
– Constance Zimmer and Shiri Appleby knock it out of the freaking park in this episode. This show has not one, but TWO Emmy-worthy performances at its core, a fact "Princess" reminds us over and over again.
– We all probably expected for Rachel to get the "real" proposal from Adam, but how the show brings about that moment is surprisingly well done, and not at all how I expect anyone thought it would go (including myself).
– Boy, Jeremy and Chet move fast with their plans for happy endings… it's almost like they work on a delusional TV show about "true love" and how that is supposed to go.
– How Rachel says "AIDS babies?" to Adam is the single funniest moment in a hilarious episode.
– Rachel has the worst luck with video cameras.
[Photo credit James Dittiger/Lifetime]