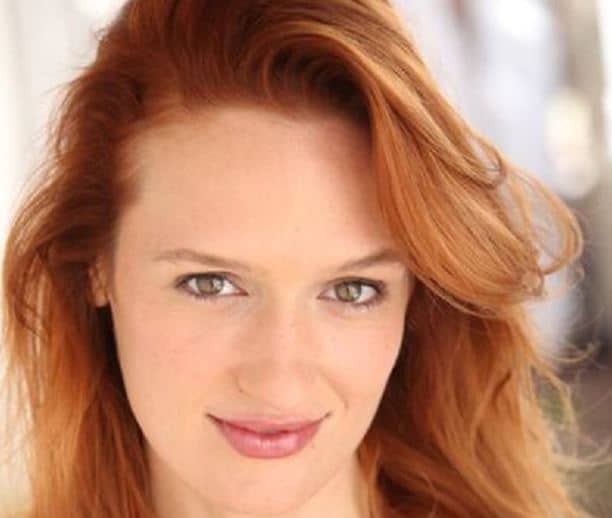 The breakout show (and best new show) of this summer has been Lifetime's freshman drama UnREAL, which has been dark and twisty but also soapy and fun, all at the same time. Something else that UnREAL has been able to do in its short time on the air is showcase its incredibly talented cast and even introduce us to some new, fantastic performers, such as Breeda Wool (Amazon's Betas), who plays Faith, the secretly gay Everlasting contestant from Mississippi, who we got to learn so much about in the show's fifth episode, "Truth," which brought Faith, along with Adam and Rachel, back to her hometown. In an exclusive interview with TVOvermind, Wool discusses what it was like to film that huge episode, previews what's in store for Faith in the remainder of UnREAL's first season, and shares some fun stories about her UnREAL costars
TVOvermind: The fifth episode of this season, "Truth," was a major one for your character Faith, when she fully realized and accepted her romantic feelings for her best friend, Amy. It was a sweeter, more touching story than we're used to seeing on UnREAL, where there's been so much backstabbing and manipulation. What was that like for you to play as an actress?
Breeda Wool:Â It was one of the best experiences ever. It was beautiful in Canada [the first season of UnREAL was filmed in Vancouver]. You know, our show is hundreds of people, hundreds of extras, fake extras [Laughs], fake crew, real crew…there were hundreds of people involved in the making of UnREAL. So when we go back to [Faith's] hometown in Mississippi, where we meet Gram and Amy, it was a much smaller group. And we were working with this director, Peter Warner, who is so spiritual and really reminded everybody that we play "make believe" for a living, and that it's totally awesome. [Laughs]
It was a huge day; we were in this farmhouse, which was actually by the sea, and at the end scene of that few days, Shiri Appleby [who plays Rachel] had the hiccups. And it was the scene we shot where I come up to the fire, and I'm like, "I know God's grace is on me," and I'm going to tell everybody, and I want them all to know that God loves all His children. And I'm really jazzed up, because I've just come out of the closet, and it feels really great when God doesn't strike me down, and everybody just had the super giggles. We were shooting ahead of time, and we just couldn't get through the scene. Shiri Appleby could not get through the scene without hiccuping, and then everybody cracked up. All the producers were cracking up. It was kind of that relief we needed from doing multiple-camera, multiple-person, like 50-person scenes with tons of extras, and all of sudden we're in this like quiet Mississippi town. It was beautiful. It felt like everything was really kismet and synergistic, and I feel like a lot of things with this show are beautifully collaborative and came together in a really great…not cosmic way….It was just…it was fate.
There definitely seems to be a real chemistry with the cast and crew on set, and I think that's really apparent on screen as well, no matter who is sharing a scene.
I like to think that's not an accident. I feel like that's true, that there's a real, beautiful togetherness with the whole cast, and when we were in Vancouver, we'd all get together and hang out after [filming]. We were very much a collective and a force, and we supported each other. But I think that actors make that choice. I don't think it's an accident. I think they cast and brought together a group of actors who make that part of their work, and certain [people] who make team and group and collective reward be everyone's reward, who are about building community. I always talk about it as like, "It's amazing. We all liked each other so much!" But I also think that it's just how the actors of the cast conduct themselves. Like when I go on a set, this is a collective, and if we move as a unit or a group, we can make something better that we are all better for on the other end. It's a conscious effort.
Definitely. I think you need that mentality in any type of group or team work. And especially for your case, for people who are actors, you need those type of people who are going to give it all their all, even when it's three in the morning on a night shoot.
Shiri Appleby is like the super champion of that. That woman is in every scene of this show. She has a family and a daughter, and I don't think she slept for five months. [Laughs]
Now that's the type of commitment of you were talking about.
And I think it really pays off. Actually, when I watched [the episode "Fly"] with Ashley Scott [who played Mary], she and I were just in awe of Shiri and Constance's work on this show. Of course, that was Ashley's big episode, so I was in awe of her, too, but she and I started reminiscing on the whole experience. It's extraordinary what Shiri and Constance are doing. It's a really interesting female relationship that I don't think we've seen on TV before.
And that's definitely one of the most compelling dynamics on UnREAL, between Shiri and Constance's characters, and really all of the characters on the show really rich and complex. You spoke about Mary's big episode, "Fly," and I just wanted to talk about how that affects Faith and the rest of the contestants on the show moving forward.
The fallout of Mary's suicide [which we started to see in last week's episode, "Savior"] is very interesting. It's really interesting how they write us dealing with it. It's really fascinating. The show gets very dark and very curious from here on out, but then I find I have very funny stuff that comes up, actually. [Mary's suicide] even adds to our isolation….And if anyone ever thought about backing out or that it wasn't serious or powerful enough, meaning Everlasting, as a show, everyone has to go in now. Everyone has to commit on the show. On the fake show. [Laughs]
The response to UnREAL so far has been fantastic, from both critics and viewers. How does it feel to be on a series that is receiving so much acclaim?
Well, there's two things going on, really: there's the making of [UnREAL], and then there's the showing of the thing. And those seem to be two completely different perspectives, two completely different worlds….This thing where you show millions of people what you've done is brand new to me, it's only a few months old. [Laughs] Honestly, I like making it the most, and being on UnREAL, was such an amazing learning experience. I was able to see people who have been in the industry for so long, like Shiri and Constance, and how they manage at this stress and how they deal with the crazy hours. You have this extreme pressure, and you still have to show up for your art and be creative in front of people on cue with things you don't have control over. So, I learned a tremendous amount from them, and they were so supportive of me. They, Ashely, Shiri, and Constance, were really like, "We like what you're doing," and you know, my background is like avant-garde theater [Laughs] and live theater in New York. I've only been doing TV and film for around five to six years, and I find it to be magnificent. It's a very full world.
You've just recently finished shooting a new feature film, AWOL. Can you tell us a little bit about it and how the experience was filming it?
We just finished it in January, and I've been involved in that film for six years, or something. [Laughs] We did the short, and it went to Sundance. And then we started making this feature, and there was a bit of a pause in the middle. But then we just finished it, and Lola Kirke is in it, who is this extraordinary actress. It was beautiful, and it's Deb Shoval's first feature film. We're hoping to premiere it in the beginning of next year, and I really look forward to people seeing that, because it's not actually all that different from UnREAL. It's a lesbian love story. Lola Kirke is a high school graduate, and she falls in love with me. My name is Rayna in the story, and I'm this down-and-out party girl in this economically depressed area of Pennsylvania. I have a trucker husband and two girls, and we start this very innocent affair, and then she joins the military and tries to get me and my girls to go AWOL with her. It's sort of about how you have dreams to make your life better, but actually going through with it can very challenging.
Are there any other upcoming projects you have that you are excited about?
I have a Funny or Die that just came out this past week with Colton Dunn, who writes for Key and Peele. I'm working with another director on a project. [Laughs] You know, I have these opportunities coming up, but I don't know if I can talk about them. I also have film called Erasing Eden, which is in post-production, and a film that I did with this very cool director Matthew Lessner called Automatic at Sea, so that's in post-production as well. Three feature indie films that are all very, very different.
Awesome. I'll be sure to be on the look out for them when they come out, and I'm really excited for these final few episodes of UnREAL. And before I forget, congrats on the Season 2 renewal!
So good, right? I felt it would have been wild to not give [UnREAL]Â a second chance, and everyone can go to Lifetime now, it's not a division of the sexes. I think it's a TV show that transcends all previous stereotypes about the network. It's a network that is remaking itself in an awesome way, and I fully support everything Lifetime is doing right now.
UnREAL airs Mondays at 10 p.m. on Lifetime. The series has three episodes remaining in its first season and has already been renewed for Season 2. You can follow Breeda on Twitter at @breedawool.
[Photo credit:Â Deidhra Fahey]